by Julia Flamingo
Based in Manila, Mark Salvatus and Mayumi Hirano decided to found Load na Dito in 2016 to be an artistic and research initiative developed as a homemade culture. They have been promoting dozens of art events in the Philippines and internationally by working in participation and collaboration, and critically addressing questions of community in relation to contemporary art.
Load Na Dito is also part of Artpool's community. We carried out an interview with both artists-curators to learn more about their amazing project, as well as understand the particularities of the Filipino art scene as artists' drive to create a democratic space has been fueling the art ecologies in the country: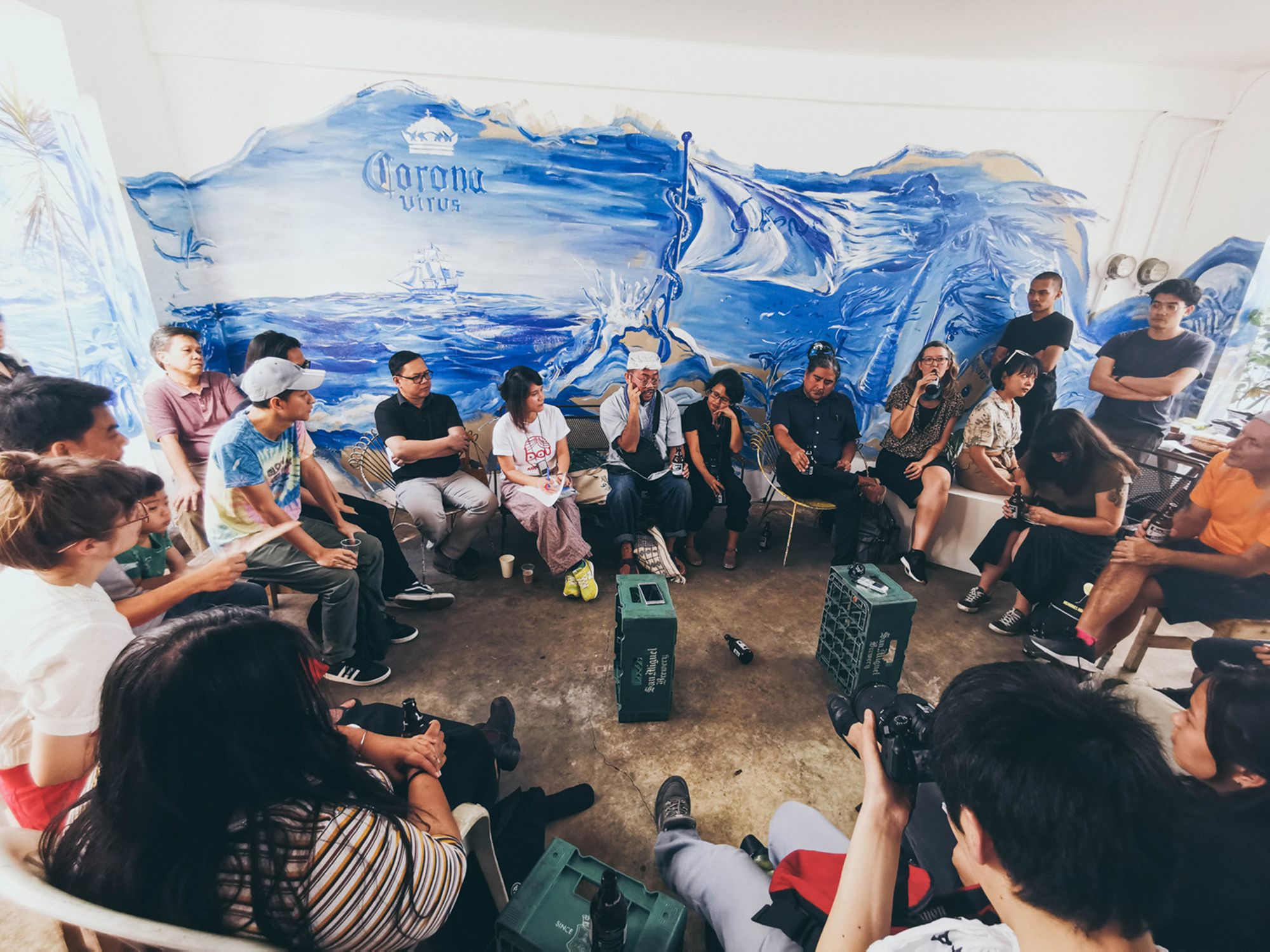 Julia Flamingo - What is Load na Dito and what kinds of activities do you promote?
Load na Dito - "Load na dito'' is signage hung on the facade of family-owned micro-enterprise, sari-sari stores, found in almost every corner of a neighborhood across the Philippines. Shouting out "load now here," it signals the location where you can reload the prepaid cell phone data. It is a representation of Filipino tingi culture, that is the selling and buying of a small portion to serve the day's necessities. Borrowing the name from the vernacular signage, Load na Dito is an artistic and research initiative based in Manila, Philippines. Developed as a homemade culture, it uses any possible space as a site for knowledge sharing, inquiry and discussion. The initiative makes projects in different locations—in various formats and sizes. By organizing and co-organizing a wide range of programs, Load na Dito hopes to critically address the questions of participation and collaboration in relation to the practice of contemporary art. Currently, we are 3 in the team and temporarily expanding depending on our activities and projects.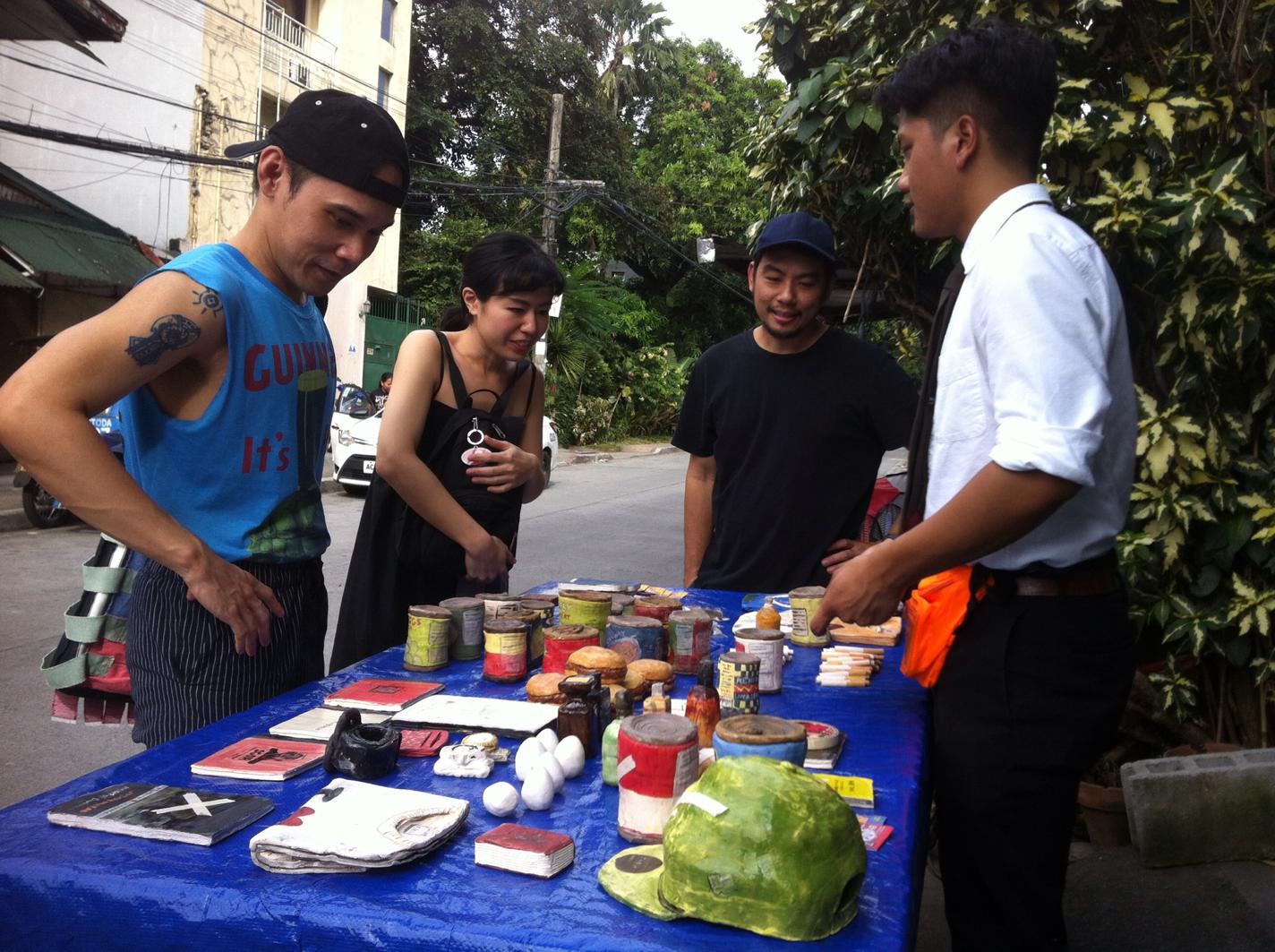 JF - What motivated you to found Load na Dito? What did you perceive as lacking in your artistic community that Load na Dito aims to bring? Moreover, I would also like to know which aspects related to the context in the Philippines are addressed within your community.
LD - It is not about what is lacking. Load na Dito attempts to transform the instant exchanges based on the practice of profit-making into a slow, reflexive, and shared process of dialogue and engagement. It seeks creative ways to challenge the capitalist mechanism of value making, built on competition, individualism, success, unhesitantly producing disposables of material products as well as human labors. Such imaginations lead us to maintain a critical distance from production-oriented thinking and enable a mode of creative research that keeps the process open and responds to the interactions among unmediated ideas and emotions. This leads to the actions (performative) that are long-term, in an iteration or patches.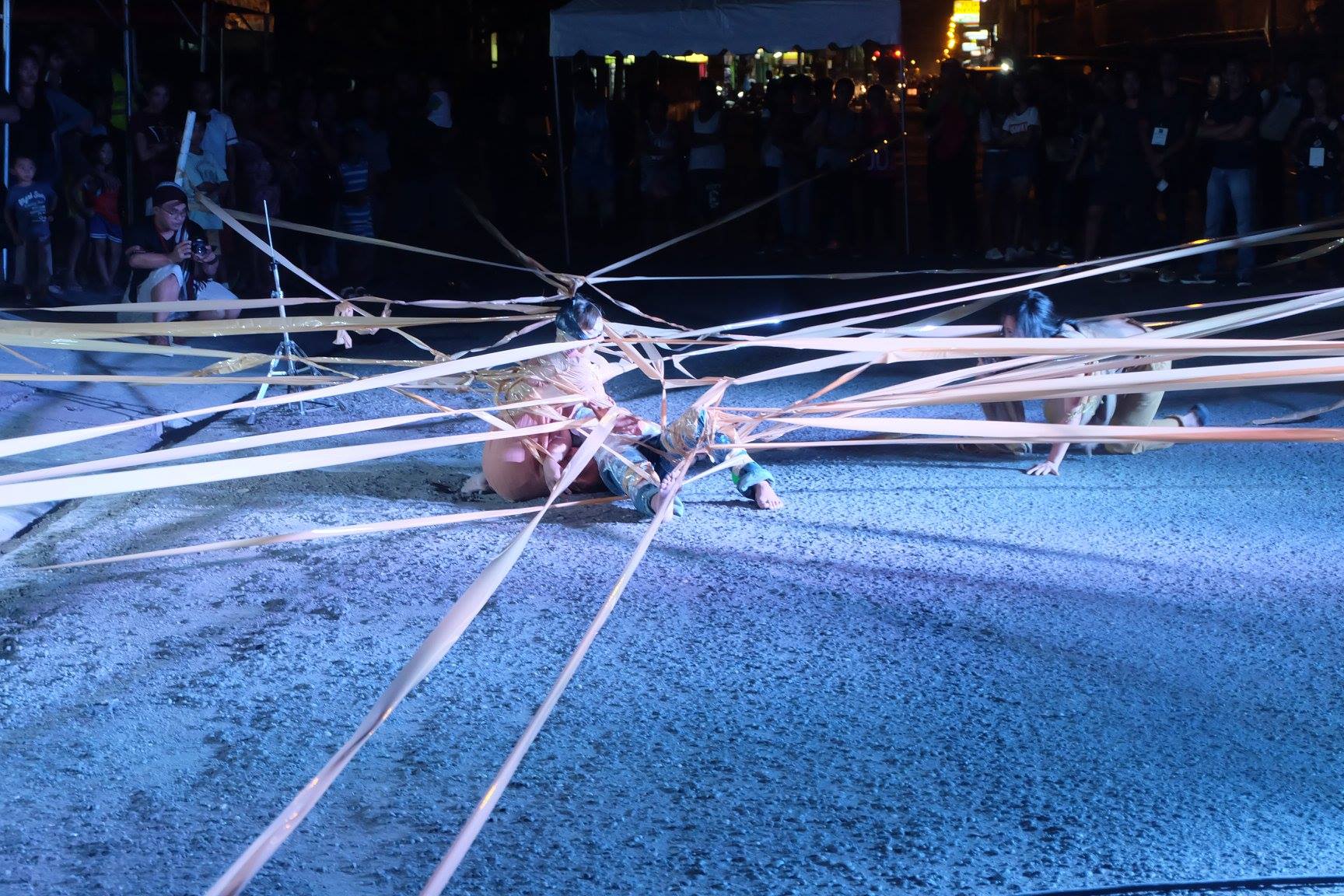 JF - You and other Filipino curators I interviewed highlighted the fact that most curators in your country are also artists. Since there was no education dedicated to curatorship and curatorship was not acknowledged as a profession, artists managed to do everything to make an exhibition happen. I am interested to know more about it!
LD - Necessitated by varied agencies in prolonged social instability and political violence, the practices of artists' self-organization and emphasis on interdependence are a political act to remain collectively independent from the patronage of manipulative powers. The artists' drive to create a democratic space has been fueling the art ecologies in the Philippines, which Dayang Yraola writes to be creating "cultural commons operating with the concept of work-life nexus (creative ecologies), non-economic motivations, social reciprocity and trust-based exchanges…[where] serving their co-artists is considered their gain."
It is in this value of serving the fellows, the role of an artist-curator may be situated. Exhibitions are made as a space to incubate each other's artistic practice and in some cases as a venue to generate financial support. This idea of trust-based exchanges is associated with the idea of mutual protection, which may concomitantly develop a collective safeguarding mechanism. Caring generosity for the community hence involves a question of territorial demarcation, which eventually establishes a status and function of a self-sufficient institution. It is the reproduction of a particular type of agencies that separates us from other, that differentiate shared from separated, failing to see the multiplicity of connections that compose the social reality. How can curating veer away from its operation based on selection and exclusion, and open new territories for affective encounters and communicative exchanges with others?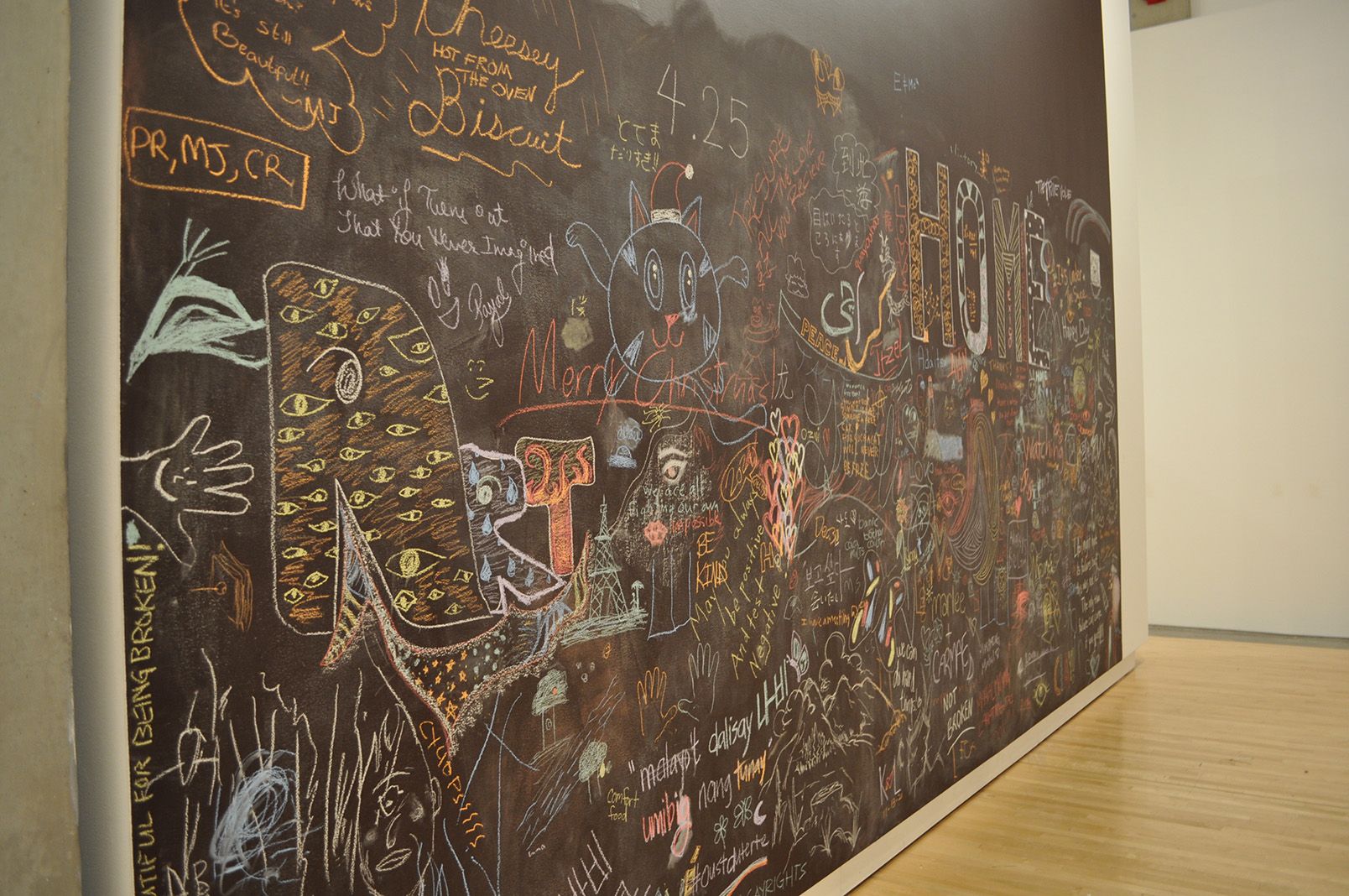 JF - Which projects are you both working on right now? Do you have a particular theme or subject you like to address in your curatorial practice? How do you select the artists who are going to work with you?
LD - We are planning on presenting the 2nd iteration of Kabit at Sabit this year or maybe next year. Kabit at Sabit is a multi-site exhibition conceived as part of Load na Dito's continued exploration of engagements and potentials of curating in local art ecologies. To explore the ways of curating that could counter-play the power politics, deterritorialize the space and facilitate more inclusive art discourses, we use an operative framework of "almost curating".
We work with the operative word 'almost' to explicate our stance to keep our critical exploration in a constant process of nearing 'curating' but not quite. The intentional distance secures a critical space for maintaining self-reflection, self-flexibility and self-reflexibility, which are essential in becoming part of a specific location and its art ecologies. The in-betweenness allows us to experiment with various degrees of planning but not control to complete. The framework of almost curating is based on the idea of nonlinear processes, disruptions, multiplicity, confusion and play. The method of making an all-inclusive platform through open-call was applied to develop our practice of almost curating. No curatorial selection. No curatorial intervention in the artists' plans. Propelled by an intention to tweak the familiar tensions of the curating and the curated, the exhibition was designed to operate on differences and a multiplicity of ideas, and pluralisms of artistic approaches, without engaging in a curatorial habit to create one unified voice to narrate and stabilize a particular way of 'reading' the artworks. Thus the exhibition explored a way to keep artworks in the direct attachment with the context and the site of production. We aim to have multi-engagements aside from viewing the works- more critical but humble engagements.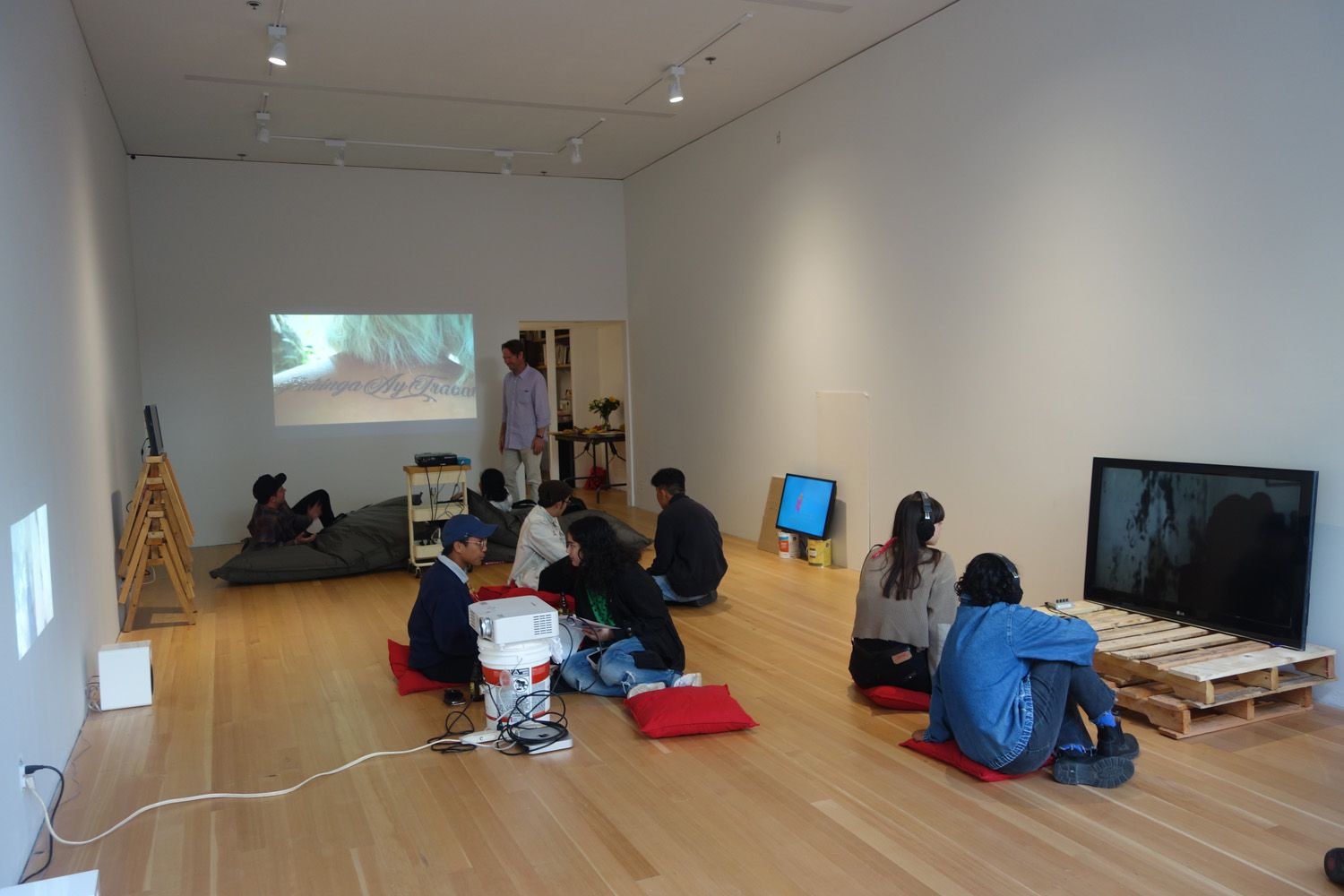 JF - How do emerging artists in your country make their work known? What steps do they take to enrich and present their practice?
LD - There are different opportunities for young artists in the Philippines to present their works for them to start- through self-organized group exhibitions in artist-led spaces and initiatives, forming a collective (school-based and friends), joining competitions, mentorships, residencies etc. But with its economic force, Metro Manila still remains the center of the art and cultural landscapes in the Philippines even though the projects and activities have been transferred to the virtual platforms in the last 2 years. Though the shift to virtual space made various "connections" possible and widened our imaginations as proven by many self-initiated online projects, these "connections" are at the same time unstable, sometimes disrupted and can lose their signal. Our task now is to make the "connections" better, make them stronger, and prolonged to circulate in the art ecosystem.
JF - Is there anything more you would like to say about particularities of the art scene in the Philippines ?
LD - Physically distant but socially intimate. Fragmented but connected. We are seeing and experiencing exhibitions and projects that are hybrid and flexible, and reciprocity generated by self-initiated platforms and collective activities in the last 2 years of the pandemic. A lot of talks, conversations, and discussions are organized, inviting the participation of the public not just as an afterthought or supplement to an exhibition but as the social sphere rendered by reciprocal relationships that is meant to be maintained with care. We see this as a lived critique of hyper-production-based art practice that promotes individualism. We highly appreciate the joint efforts of arts and cultural workers to form a loose structure (not infrastructure) that circulates knowledge, resources, and energies, forging a sense of solidarity beyond the social positions, affiliations, ideological inclinations, and geographical locations.

Click here to see Load na Dito's profile on Artpool