by Julia Flamingo
Documenta Fifteen is a collective exhibition of collectives. Ruangrupa, the Indonesian group of ten curators, has invited other groups to select works for Documenta. They have, in turn, selected other collectives, and the result is a horizontal and experimental exhibition that gathers more than 1500 people in Kassel.
Based all over the world, these collectives have in common the belief that they can change their political and socio-economical context through art. They have been engaged within their communities for years or decades, and Documenta Fifteen comes to acknowledge their existence in the most important art exhibition in the world. Here is a selection of five collectives who have brought unforgettable projects to Documenta Fifteen, highlighted by our communication associate and art journalist Julia Flamingo: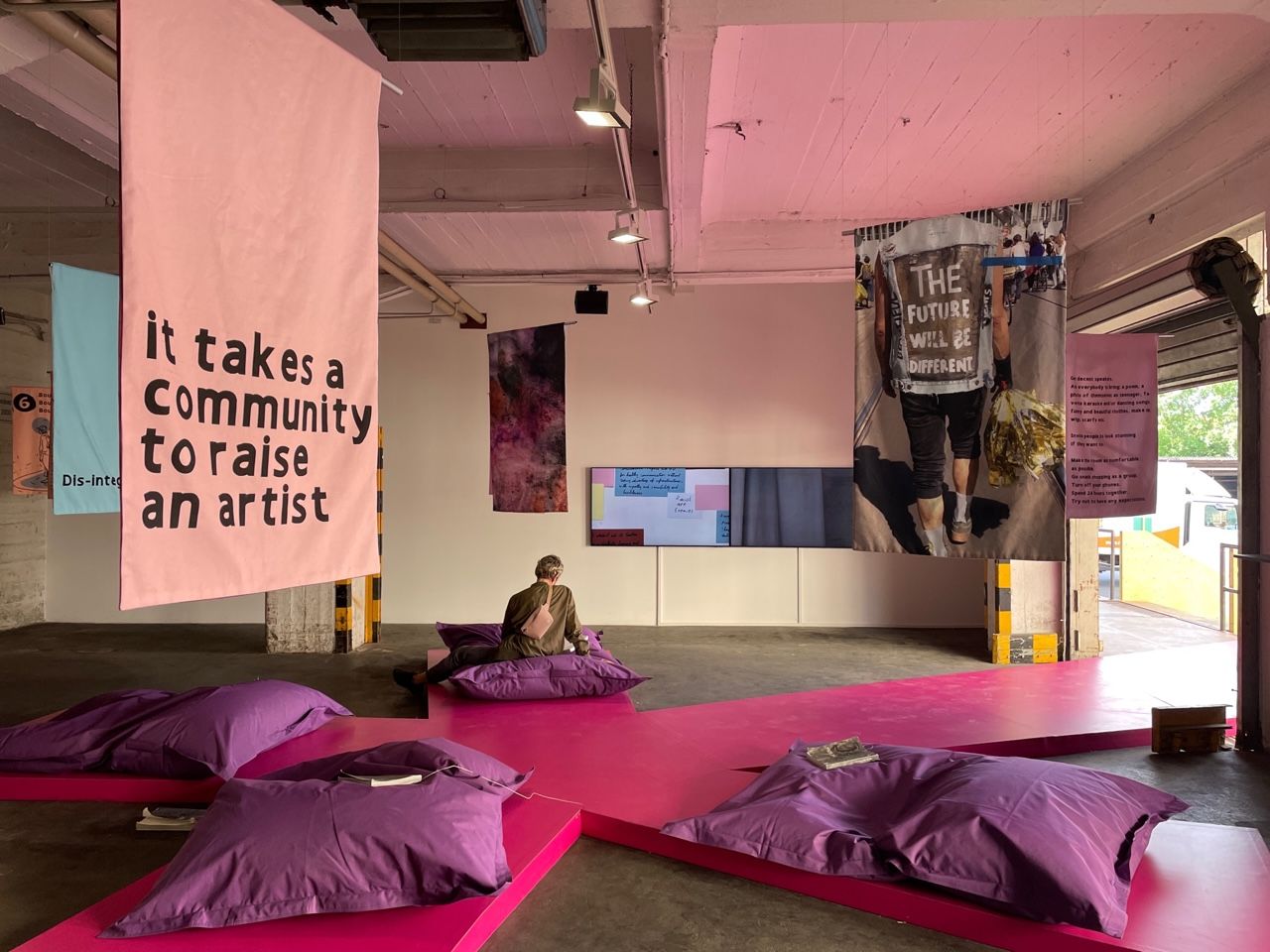 *foundationclass* collective
*foundationclass* is composed of immigrants that wish to facilitate the access of foreign people to art studies in Germany. They produce posters with catchphrases about learning, language and prejudice to question how the traditional art world can be inclusive or exclusive. "Who has the right to enter the art academy? Do you think it is really for everyone?", they ask. Other phrases that appear in the banners that float in the main room of Fridericianum are "My biography seems more interesting than my art", and "Language is also a tool of power which can strongly exclude. We speak many languages in the space".
The best of their work, though, is not in the most well-known venue of Documenta, however, displayed at Hafenstrasse 76, an old industrial building, which can be the best venue at Documenta. It is where one of the integrants of the collective, Anwar Al Atrash, shows the work Red Carpet, a giant and upside-down red carpet that builds an interesting image to comment on how practices and identities of immigrant artists are very often not recognized in the Western World.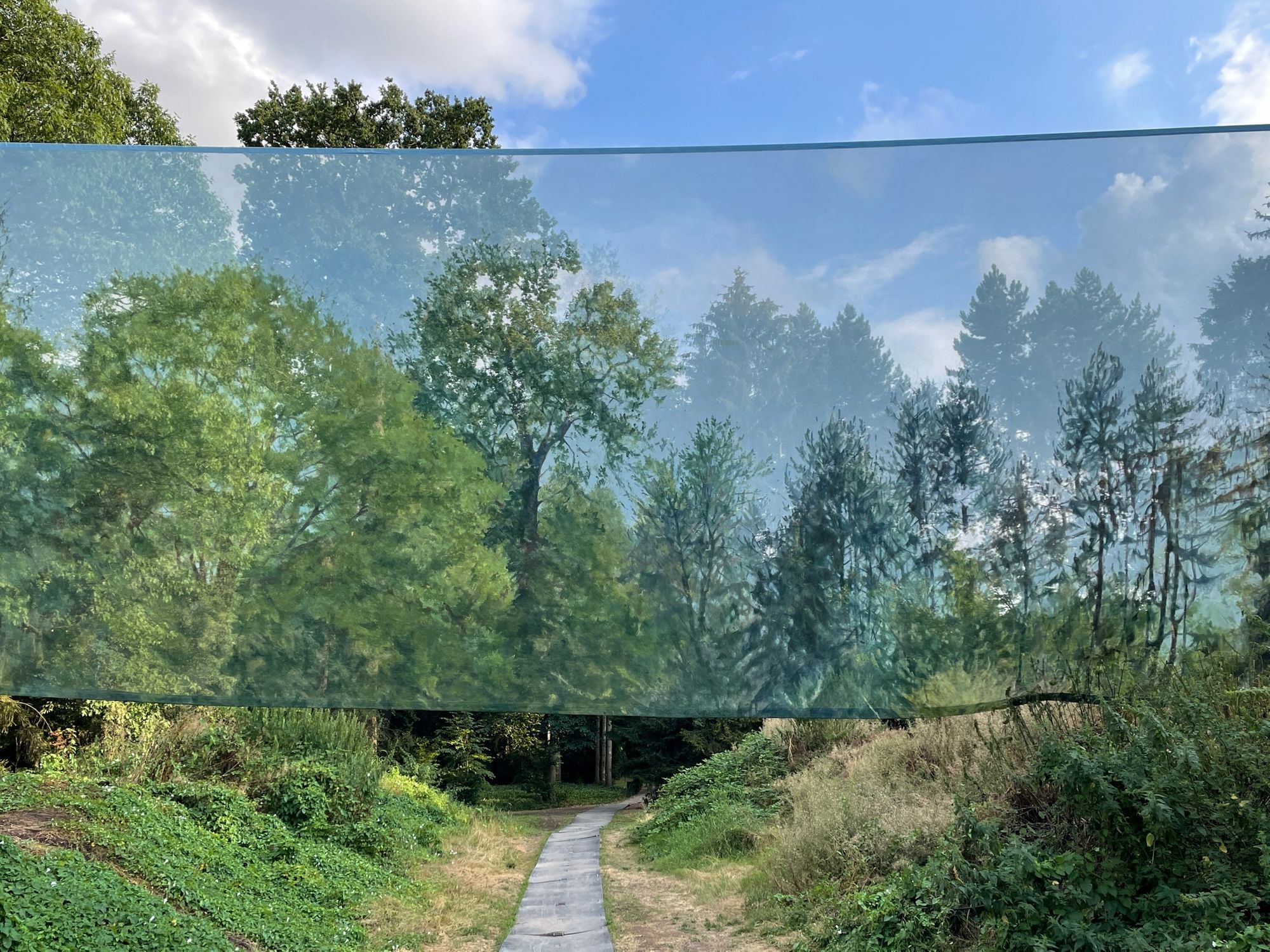 La Intermundial Holobiente
Probably the most stunning art piece at Documenta, the artwork at Karlsaue Park by the collective La Intermundial Holobiente is a pause for contemplation. A giant and almost transparent cloth on which is painted a natural landscape is intertwined with the trees of the forest, composing a poetic and supernatural sight. As the cloth sways with the wind, one cannot stop thinking about the power of nature and how it has always been an inspiration in art history. In an experimental and conceptual exhibition, this piece demands nothing but meditation.
The Argentinian collective believes that survival on planet Earth depends on our ability to imagine decolonizing and non-extractivist relational modes. They have lived and worked in Karlsaue Park to interact and coexist with the plurality of nonhuman entities that live or are believed to have lived there. They privilege fable, fiction and myth as a way to expand our real world. The Book of a Thousand Things is the result of their multiple, creative process in the forest.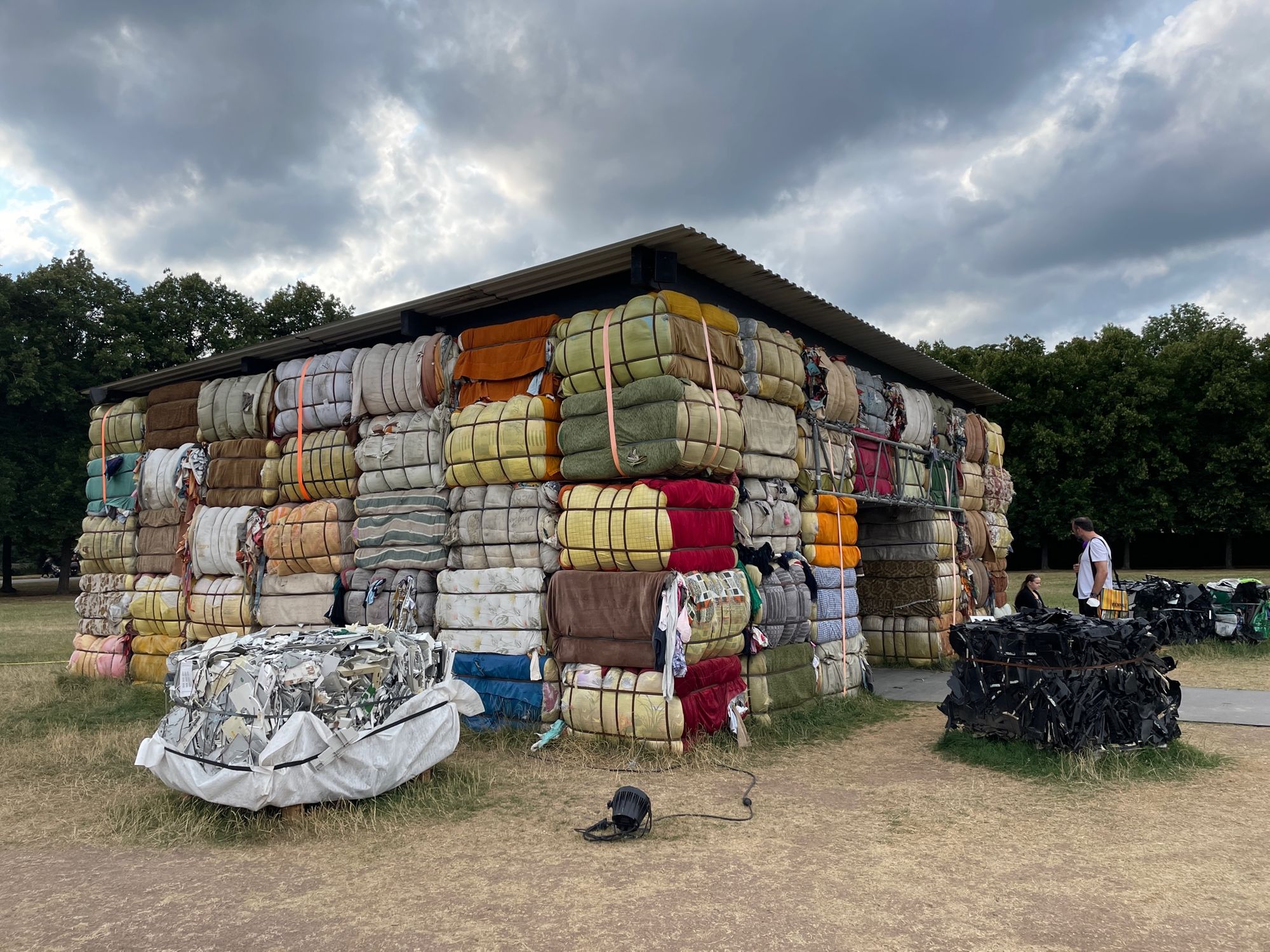 The Nest Collective
Also inside the Karlsaue park, but located right next to the Orangerie, is the gigantic installation made with clothing by The Nest Collective. Return to Sender recalls a dumpsite: it is an architectural artwork built with second-hand clothing that has been shipped from Western Countries to East Africa. In theory, the clothes are 'donated'– in practice, however, they are not fit for use, and end up being tons of waste that are sent by industrialized nations to less industrialized ones.
The reorganization of black consciousness is central to The Nest Collective practice. For the past decade, the Kenyan collective has been denouncing significant negative aspects of urbanization in their country and across Africa. Their artivism is also very explicit in the video screened inside the installation, which brings statements by different contributors and unpacks complex interconnections between macroeconomic decisions and micro-realities.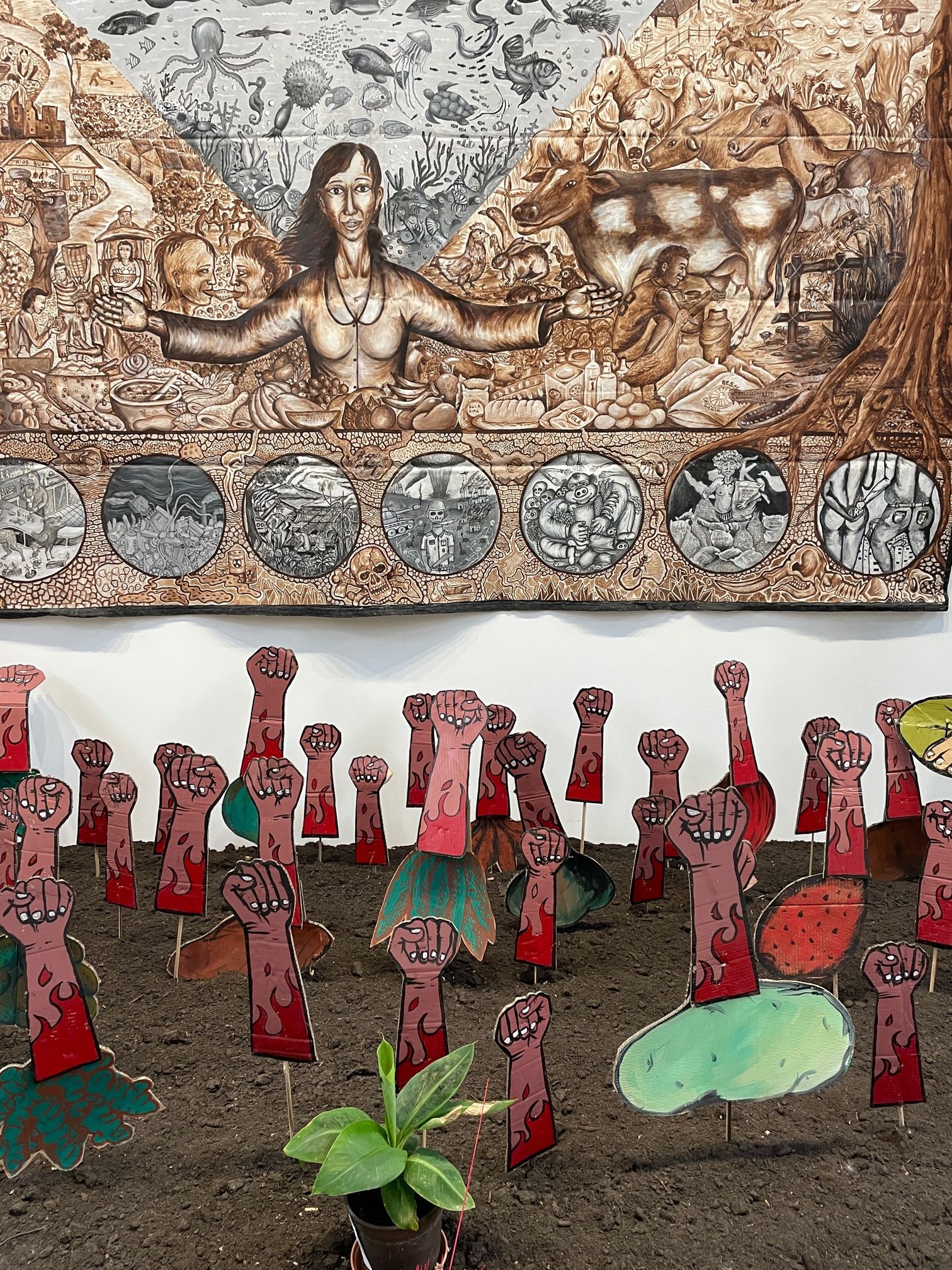 Tarang Padi
The Indonesian collective takes over the impressive Hallenbad Ost, an indoor public pool built in 1929, which was transformed into an art venue after the swimming pool was filled with concrete. Large format banners, woodcut posters and life-sized cardboard puppets by Tarang Padi are spread all over the place and protest against the socio-political and economic contexts in Indonesia.
Tarang Padi was formed in 1998, and the majority of its founding members were art students and activists who have been organizing workshops with different communities inside and outside Indonesia to talk about political concerns and collectively produce satirical cardboard puppets. Their core principles are "organize, educate and agitate".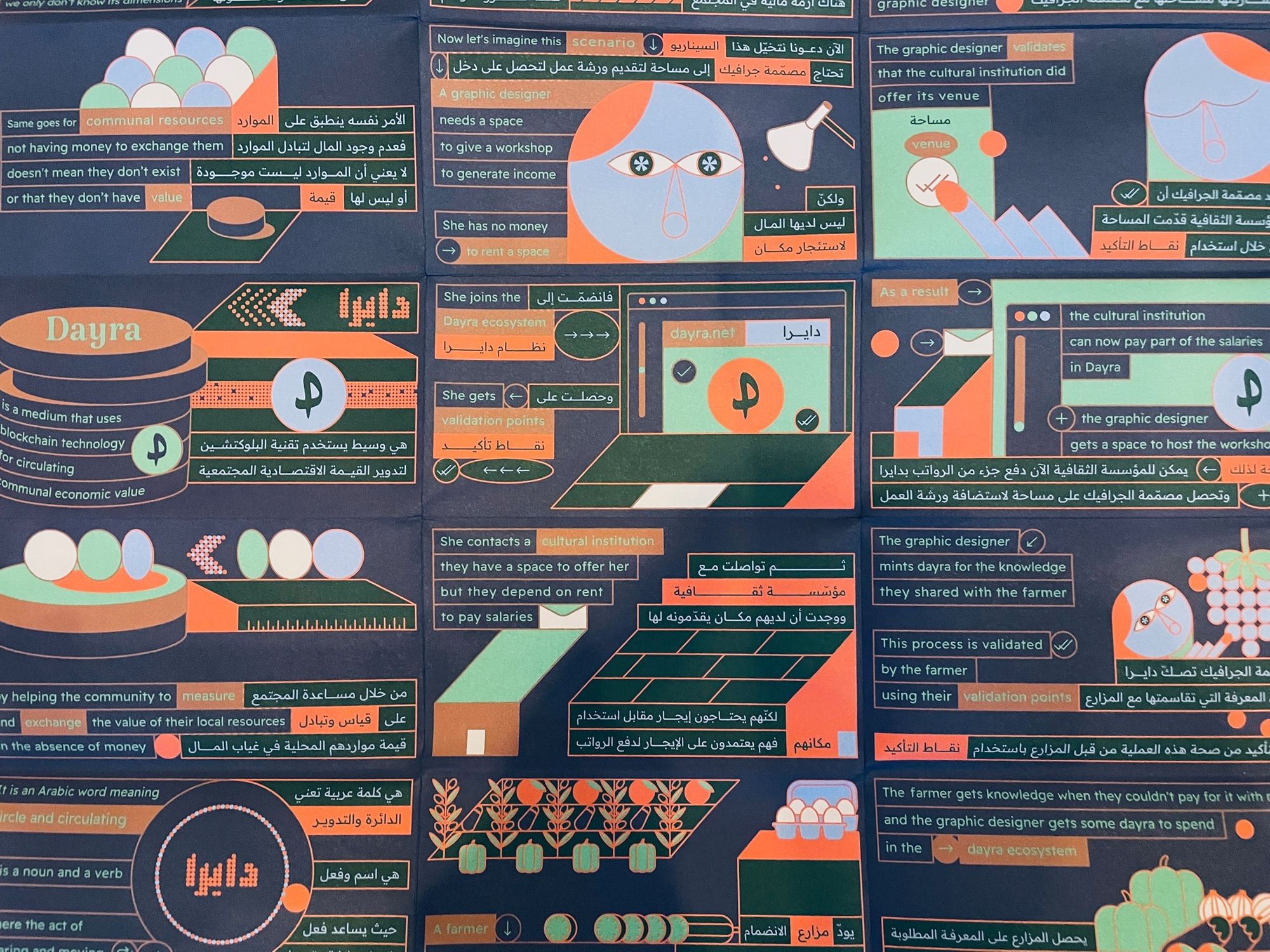 The Question of Funding
Funding is the million-dollar question in the art world and the Palestinian collective The Question on Funding examines donor culture in Palestine, and reimagines alternative economic models based on justice and solidarity for institutions and art creators. Their works are directed at inverting the funding mechanism. They have created Dayra, a cryptocurrency that starts with zero, and which value adds up according to how people in the community circulate resources. At Documenta Fifteen, they invited Kassel-based activists and collectives to share their perspectives around funding and survival at the venue WH22.
The group has also been working with Blockchain technologies as tools to give artists and creators revenue for their work. This is also a core idea at Artpool: selling art editions via NFTs to financially acknowledge the work of artists and curators.

Documenta happens every five year in Kassel, Germany. Documenta Fifteen takes place from June 18 to September 25, 2022.