by Julia Flamingo
The European Conference about NTFs, NFC Lisbon, was all about art this year. The June 7-9 event at Pavilhão Carlos Lopes in Lisbon showcased a lineup of renowned blockchain art figures and brought together more than 200 artists and NFT leaders. It is one of the most expected events of the year for Artpool, and our team was there to honor some highly regarded artists and discover others. These are what we believe to be the 6 best art projects presented at the NFC Lisbon: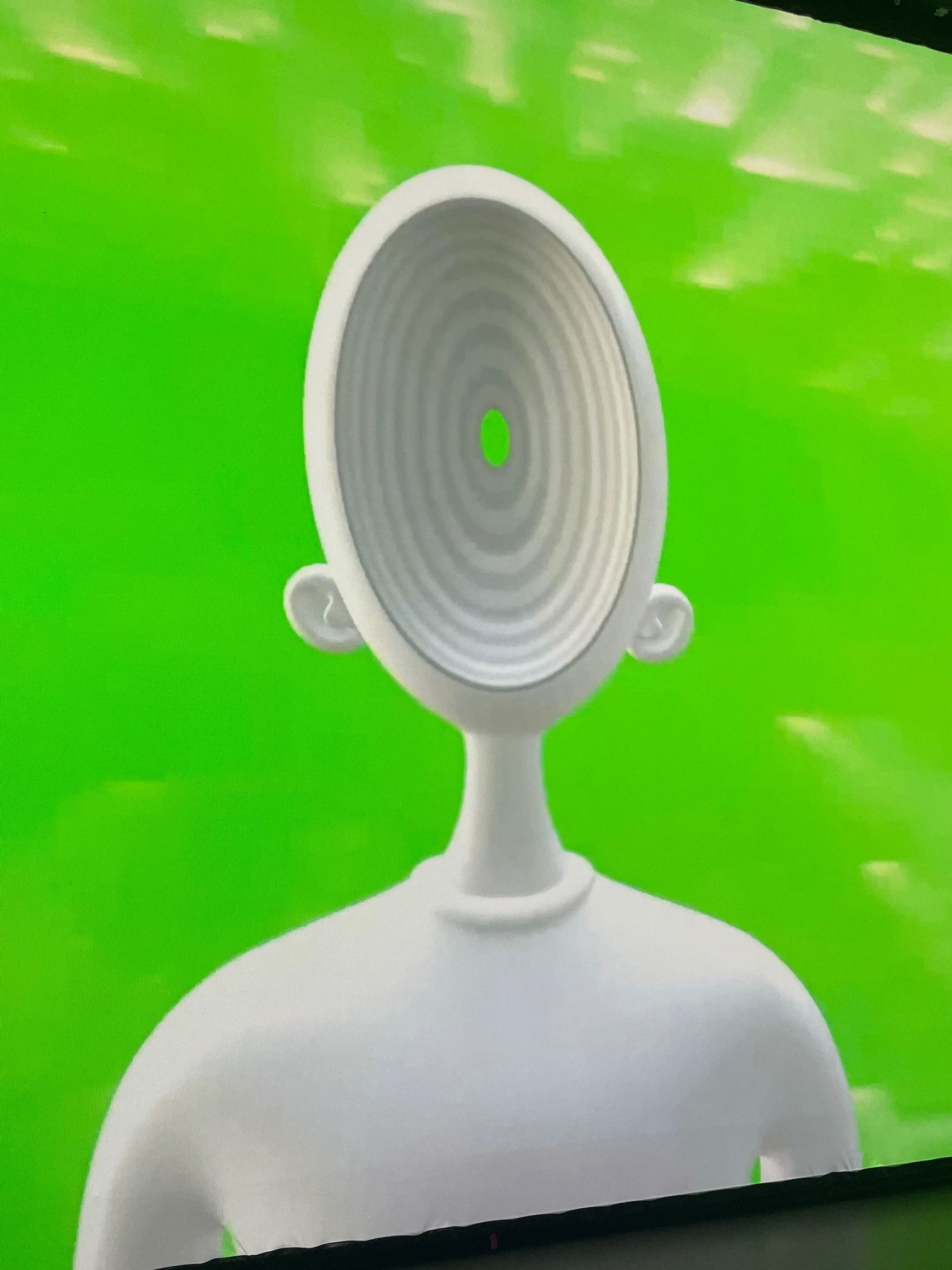 1 – "Nephel's Dream" by DoP & Alexis Olin
The musical and visual tale tells the story of a child living in Medias, on the border of Romania and Ukraine. It is a collaboration between the visual universe of artist Alexis Olin and dOP, the band who composed 25 pieces of music for each of the 25 chapters of "Nephel's Dream". The project includes NFTs, vinyl, performances, physical and digital artworks, and a live concert. During the NFC, the work was presented with a mesmerizing immersive video installation on the main stage.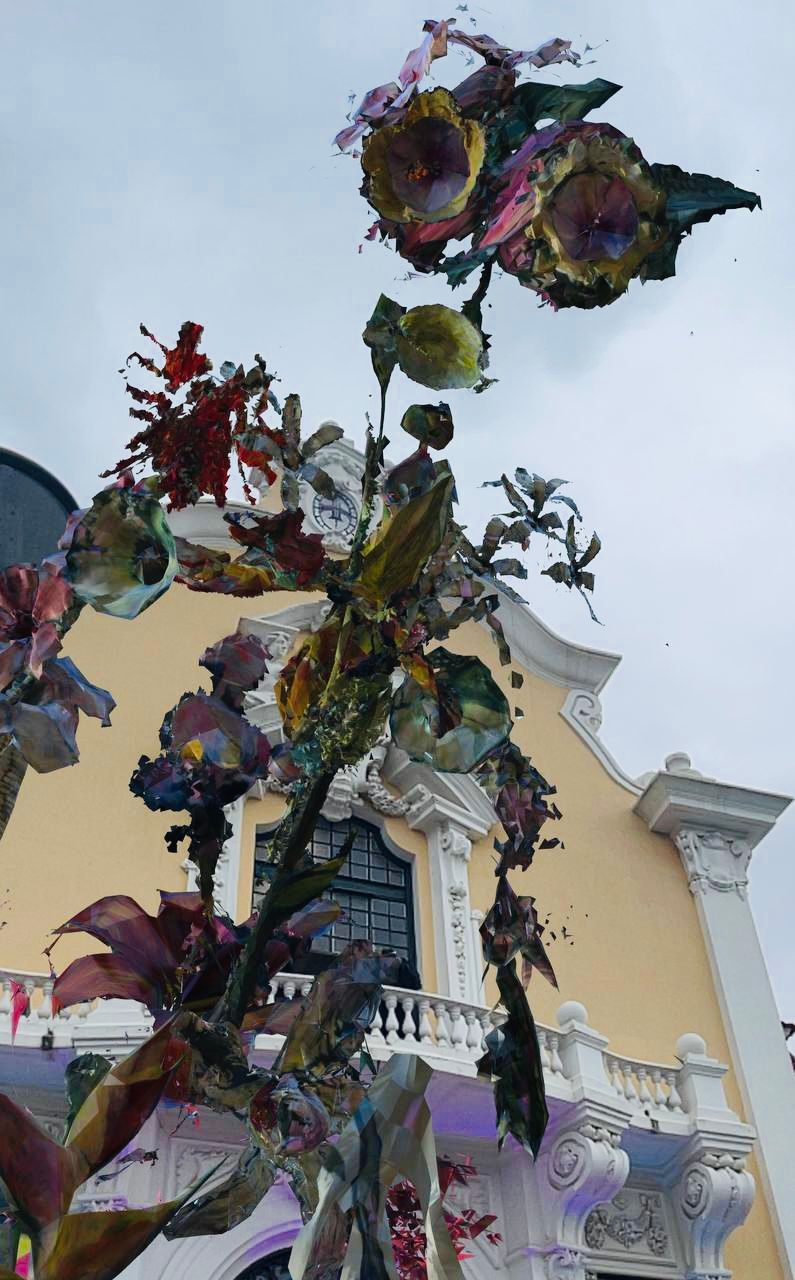 2 – Augmented Reality by Lauren Moffatt
The Australian artist believes we need to cultivate our imagination about possible ways to live in the world. Over the last few years, the artist has been building immersive 3D spaces which offer a fantastical immersion into possible human and non-human connectedness. During the NFC Lisbon, Lauren Moffatt presented the Augmented Reality work titled "Reverse Dive: Local Knowledge, Partial Truth", in which a giant figure made of many varieties of flowers towers above viewers, altering the normal power structure between humans and plants. For the occasion, she also presented an NFT art piece, "Compost IX", a digital collage also made with physical painting.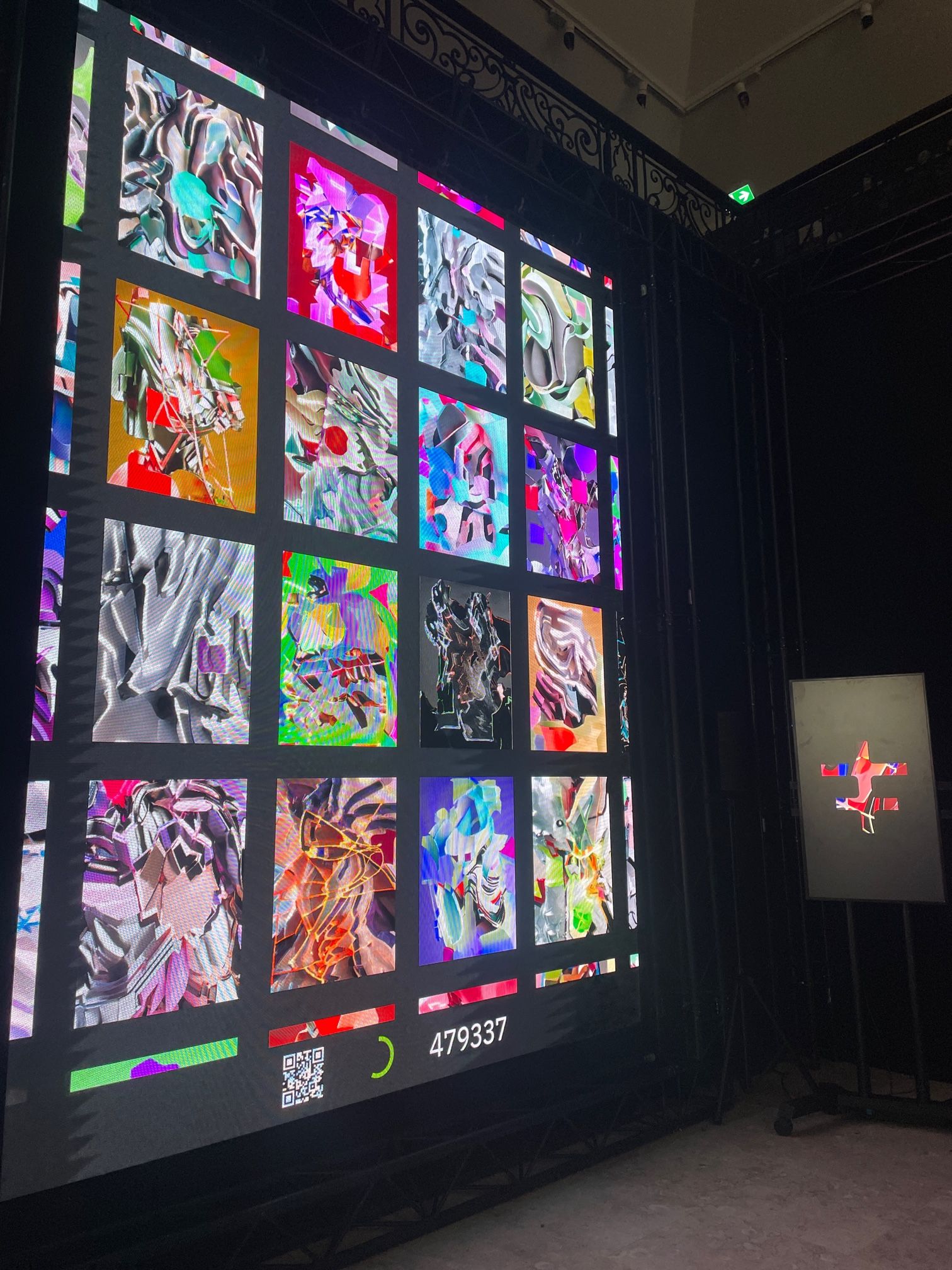 3 – "Three of MEM" by MGXS
Brazilian artist Fernando Magalhães, aka MGXS develops tools and uses algorithms to create pieces and establish protocols, enabling his computer to create infinite variations. At NFC Lisbon, the renowned generative artist unveiled the MEM experience, which invited participants to mold the memories of digital beings. These contributions make it possible to create a living, evolving artwork known as the "Three of MEM". An exhibition of this project was held in one of the rooms of the NFC pavilion.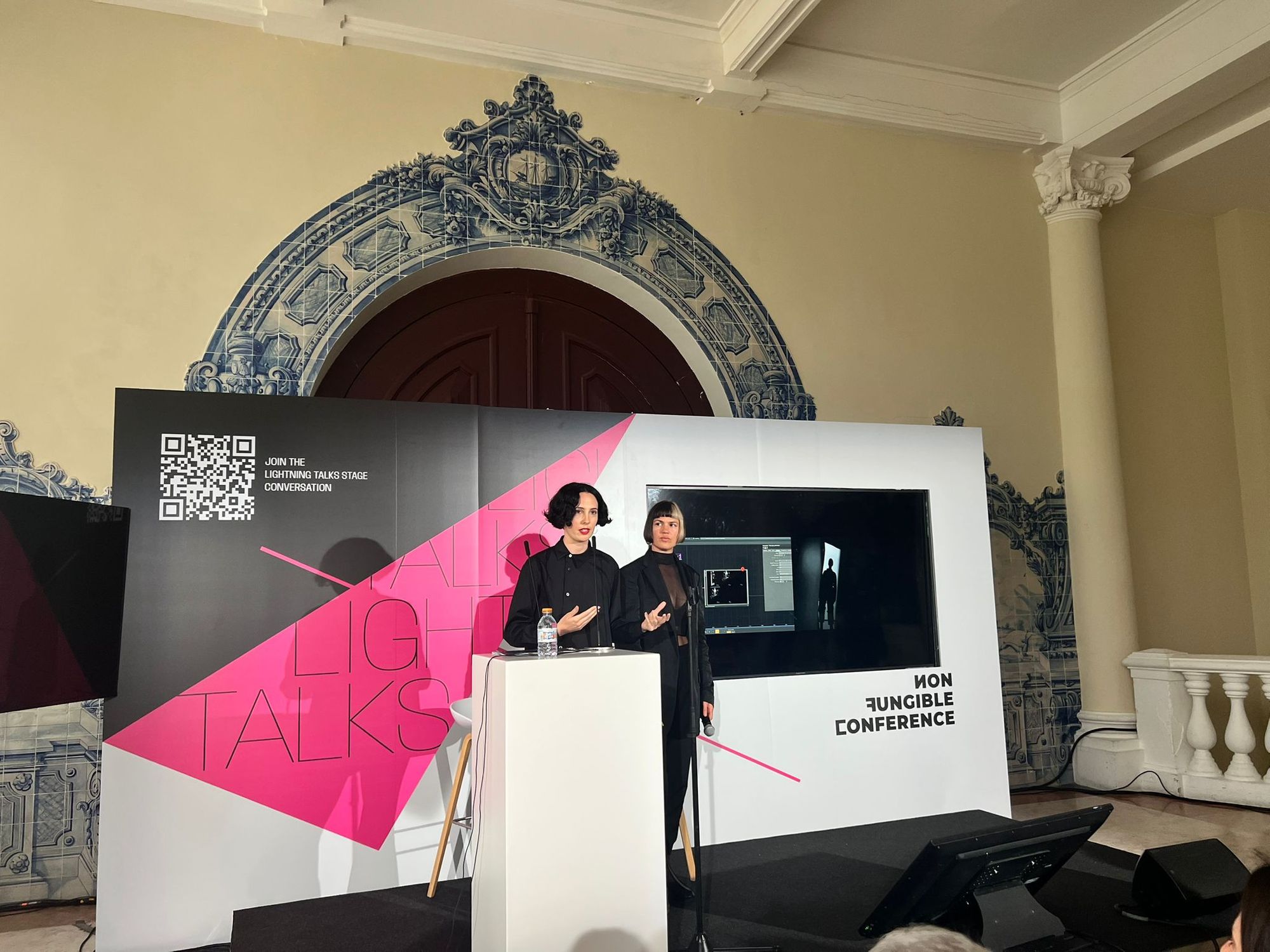 4 – Generative Choreography of Operator
The award-winning experiential artistic collective is composed of choreographer, performance artist and gender scholar Ania Catherine, and immersive artist and technologist Dejha Ti. The duo produces large-scale conceptual works recognizable for their signature poetic approach to technology: they believe that immersion is not only physical but also emotional. At NFC Lisbon, the collective spoke about their generative choreography method in 150 slides and 15 minutes.
5 – "Blind" by PAK
Digital artist, cryptocurrency investor, and programmer, Pak is credited for having introduced Beeple to NFTs and also for selling one of the most expensive NFTs ever ("Merge" generated $91.8 million in sales in December 2021). Pak – whose identity is unknown -, created Archillect, an internet bot that acts as a curation platform. During NFC, Pak presented the immersive video installation "Blind" on the main stage.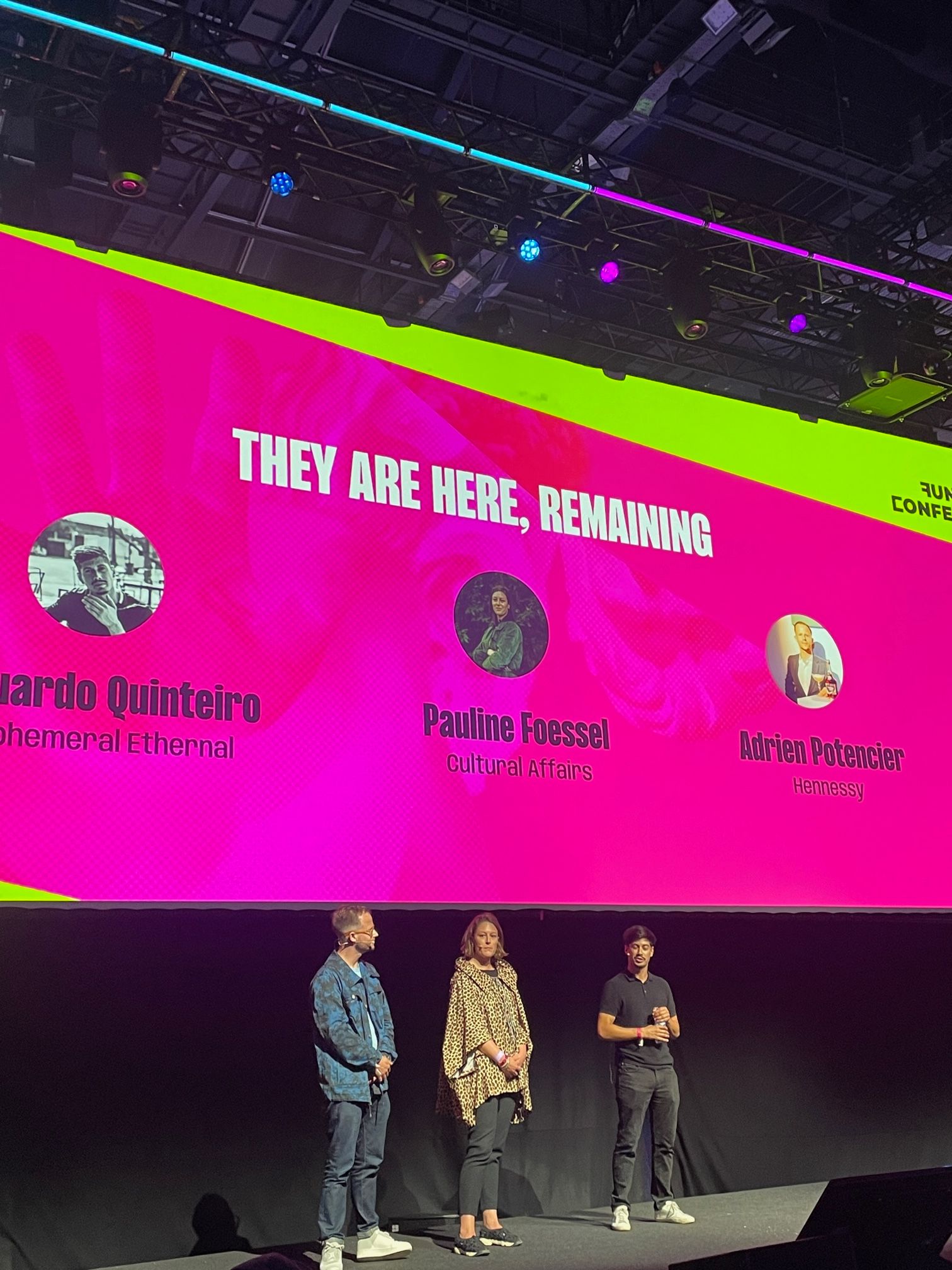 6 – "They are here, remaining", by Add Fuel, PichiAvo and Vhils
The phygital art show also presented on the main stage celebrated the ephemerality and specificity of urban art, and the good things technology and the digital bring to explore and expand the life of such artworks. The poetic video gathered photos, video, and animations of works by the Portuguese artists Add Fuel and Vhils, and the Spanish duo PichiAvo. The show ended with a brief presentation by Eduardo Quinteiro of Ephemeral Eternal, Adrien Potenciar of Henessy, and Artpool's founder Pauline Foessel, who is also Head Curator of Cultural Affairs.