by Julia Flamingo
It's good to be back! For 2023, new exciting projects are coming up for Artpool, which we have been enthusiastically designing in these first weeks of the year. But before we get there, we still need to celebrate the success of our Lisbon event in the last days of 2022. Our pop-up shop in collaboration with restaurant Boavida was the perfect year-end closing. During 10 days of our Xmas Art Market, we showcased and sold works by 25 international artists, hosted 6 open roundtables and educational events, gave an art workshop for kids, threw 2 parties, and welcomed dozens of art lovers, NFT enthusiasts and passers. It was exhausting (we indeed needed some rest!), but it was most gratifying.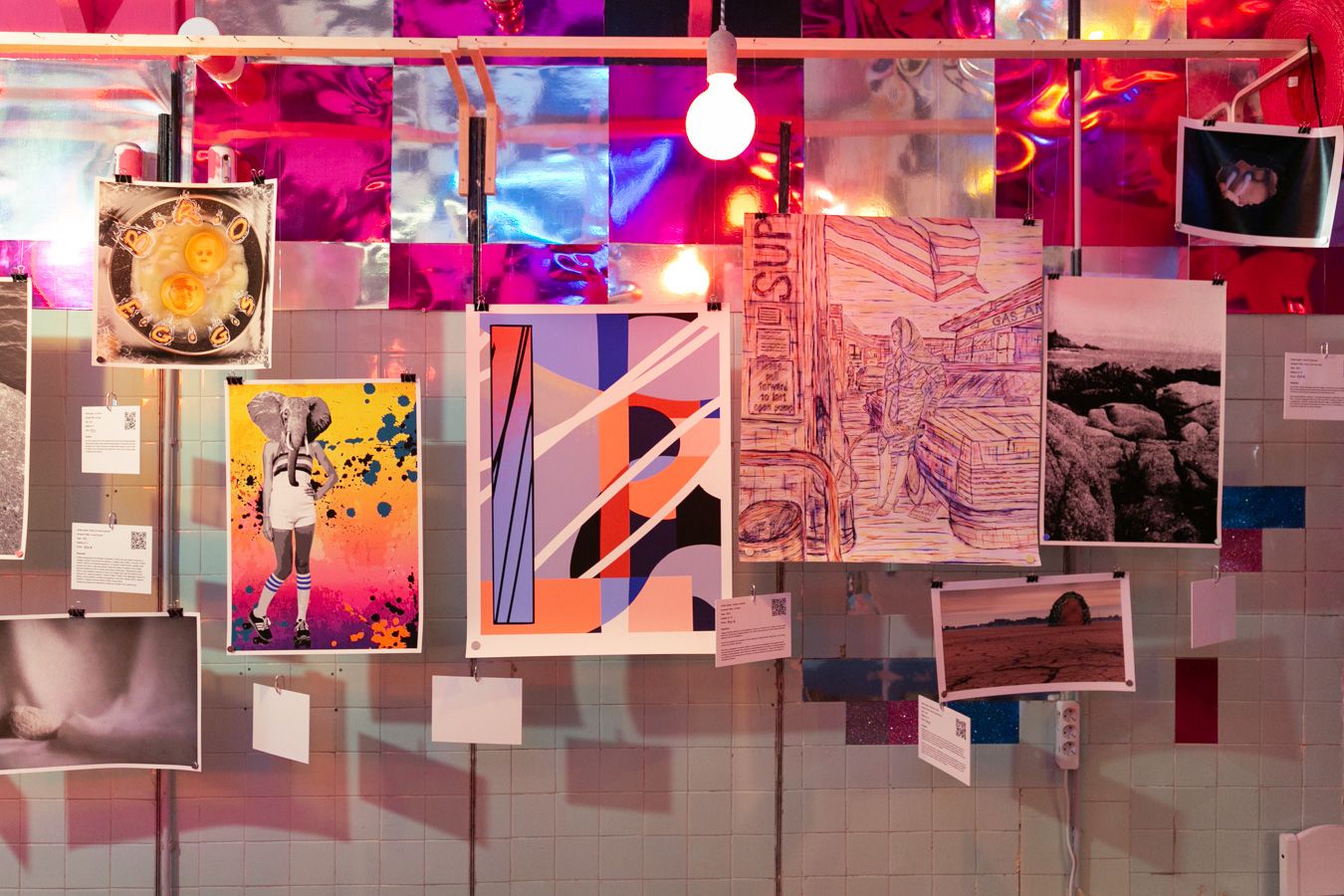 The opening on December 10th attracted lots of people who were especially drawn by the unique atmosphere of Boavida, a restaurant located in the old Lisbon neighborhood of Santos filled with ludic objects, colorful lights, good music, and a disco ball that never went off. It was the perfect not-white-cube scenery for our exclusive and affordable digital art editions. The 25 artworks are a selection of the NFTs we sell on our platform in digital collections created by curators and artists of Artpool's community. Art lovers who buy the editions receive the artworks in two different formats: a digital version (NFT) and a printed version. By displaying the physical prints at Boavida, we showed that digital art and NFTs are not abstract, distant and complicated. They can live with us!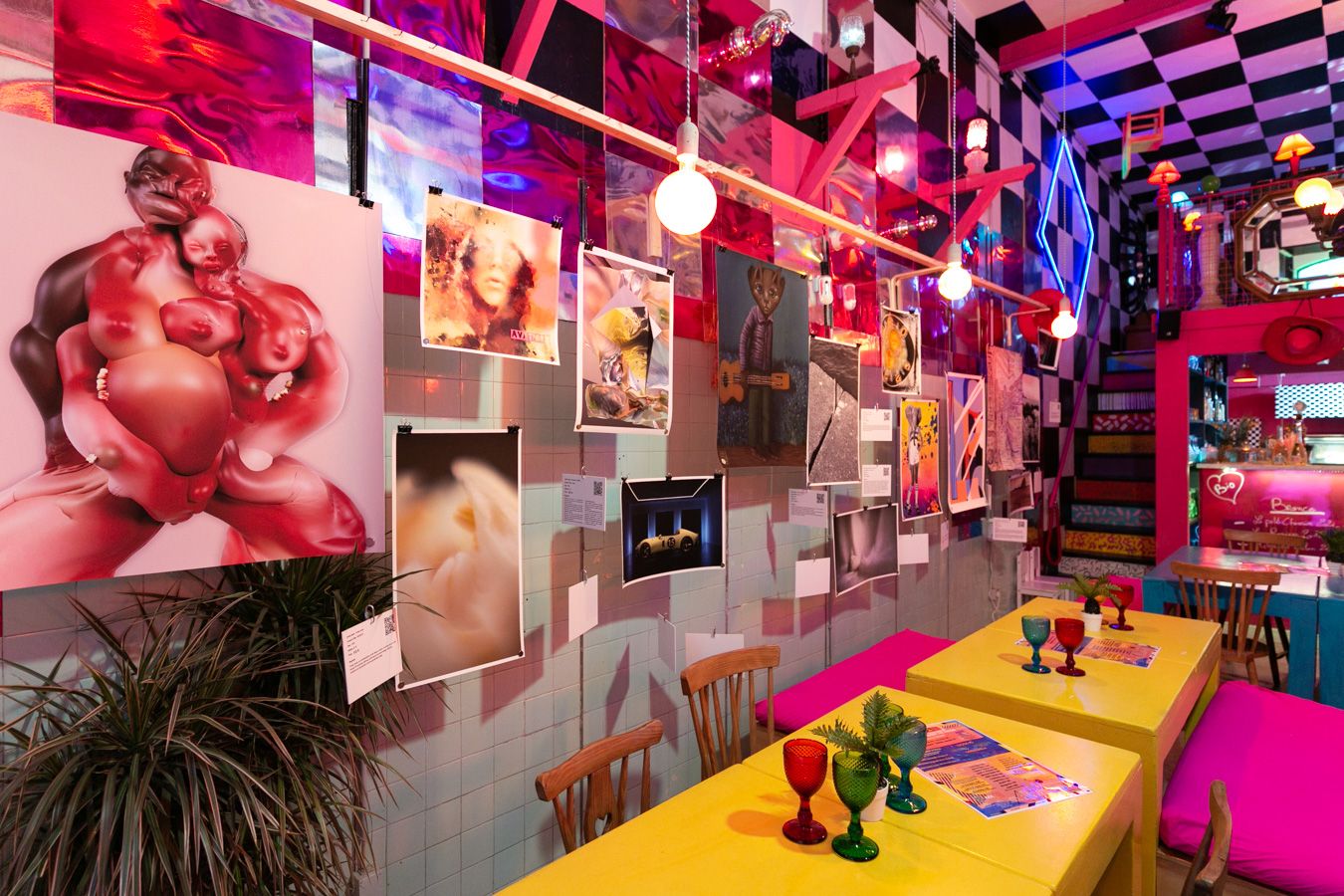 Three members of our team - Founder & Director Pauline Foessel, Artist Liaison Delfina Sena, and myself, Journalist Julia Flamingo welcomed visitors the whole day to explain our work and the artworks on display. Good coffee and nice chat were always in the order of the day. Late afternoons were animated with talks and roundtable discussions hosted by us alongside the curators of our community or other amazing art professionals.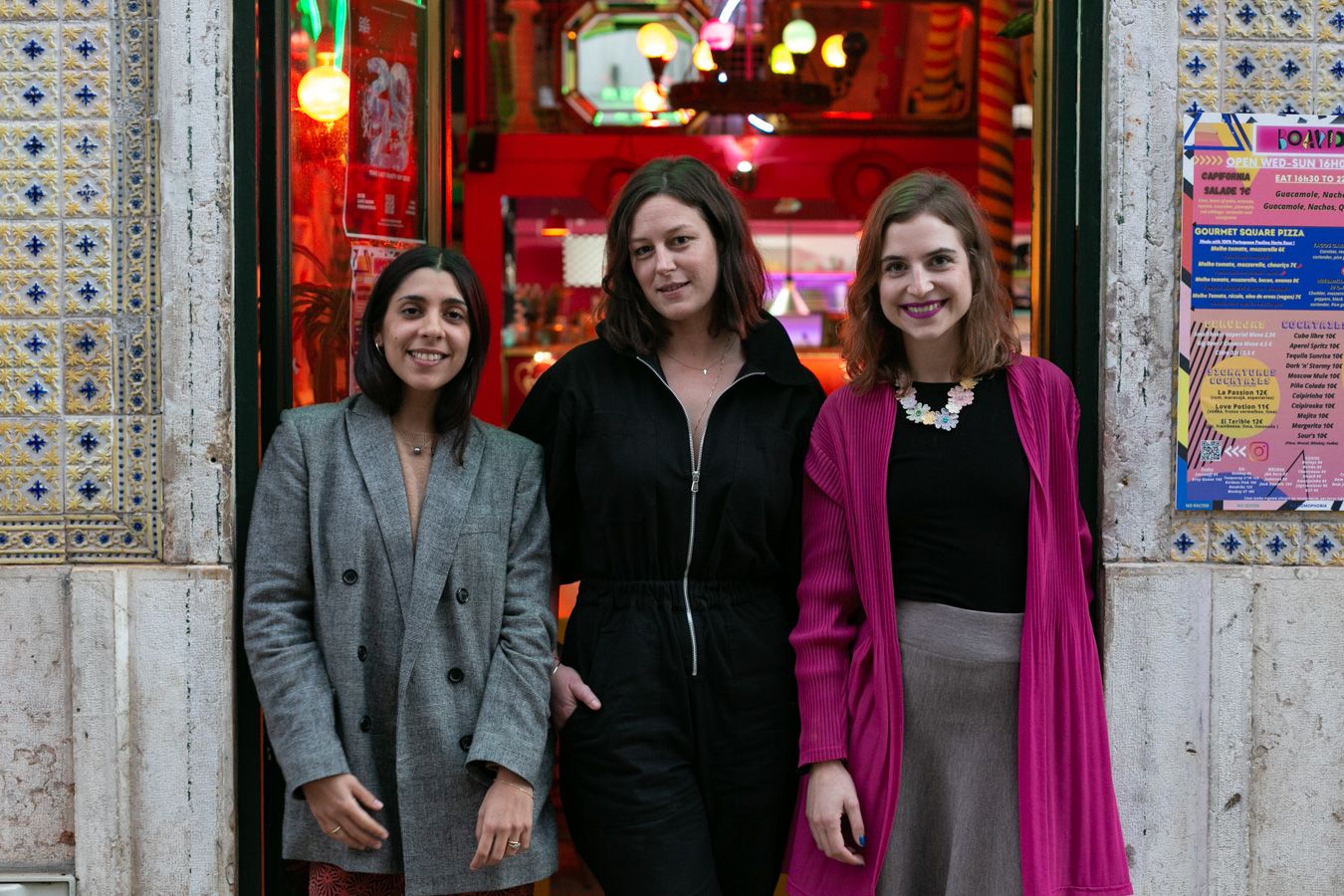 mais uno+1 curatorial collective members hosted a workshop for Lisbon-based art curators who introduced us to their practices and openly exchanged about the current problems of curatorial practices in Portugal. Members of the collective, Alexia Alexandropoulou, Ligia Fernandes, Ines Neves, and Nicole Sanchez proposed exercises such as writing a collaborative curatorial text and interpreting images of artworks. The session was recorded and will be transformed into a podcast, which will be soon available on the website maisunomaisum.pt and Spotify. As they function under a free, open, and horizontal structure, the collective is open for anyone to join as long as they are willing to work in a non-hierarchical manner.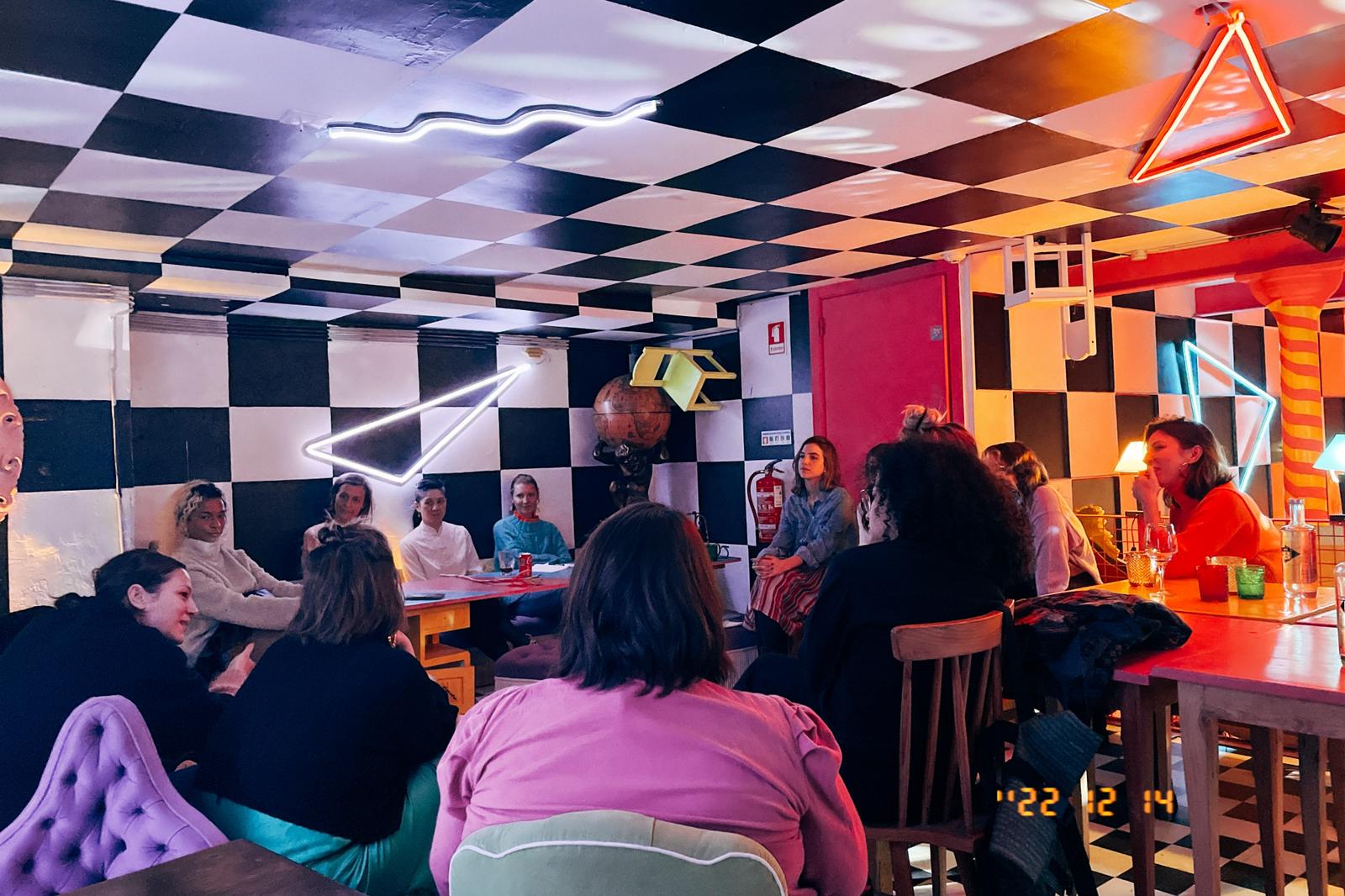 The talk about Curatorial Feminism aggregated dozens of amazing women mostly working in the art field in Lisbon. We invited two activist curators of our platform to share their feminist approaches to art. British Artist and curator Rebecca Fontaine-Wolf is the co-founder and director of Infems: Intersectional Feminist Art Collective and former vice president of the Society of Women Artists (UK). She was featured in Hauser & Wirth's Herstory Series, and was commissioned by Carolina Herrera to produce her first NFT for international women's day 2022.
Portuguese Independent curator and researcher, Marta Espiridião is currently a Ph.D. student at Transart Institute with the research project Feminist Killjoys: New Embodiments in Moving Image. Her curatorial practice is developed around women, queer, and racialized bodies, as well as the experience of non-normative bodies in urban landscapes. They both talked about how they started getting conscious about feminism, discussed what is curatorial feminism and how it can be present in every aspect of their work and life. "Things are just starting to change. Our fight for gender equality in the arts is just beginning", said Marta Espiridião. Still, the general feeling amongst us was of hope and inspiration.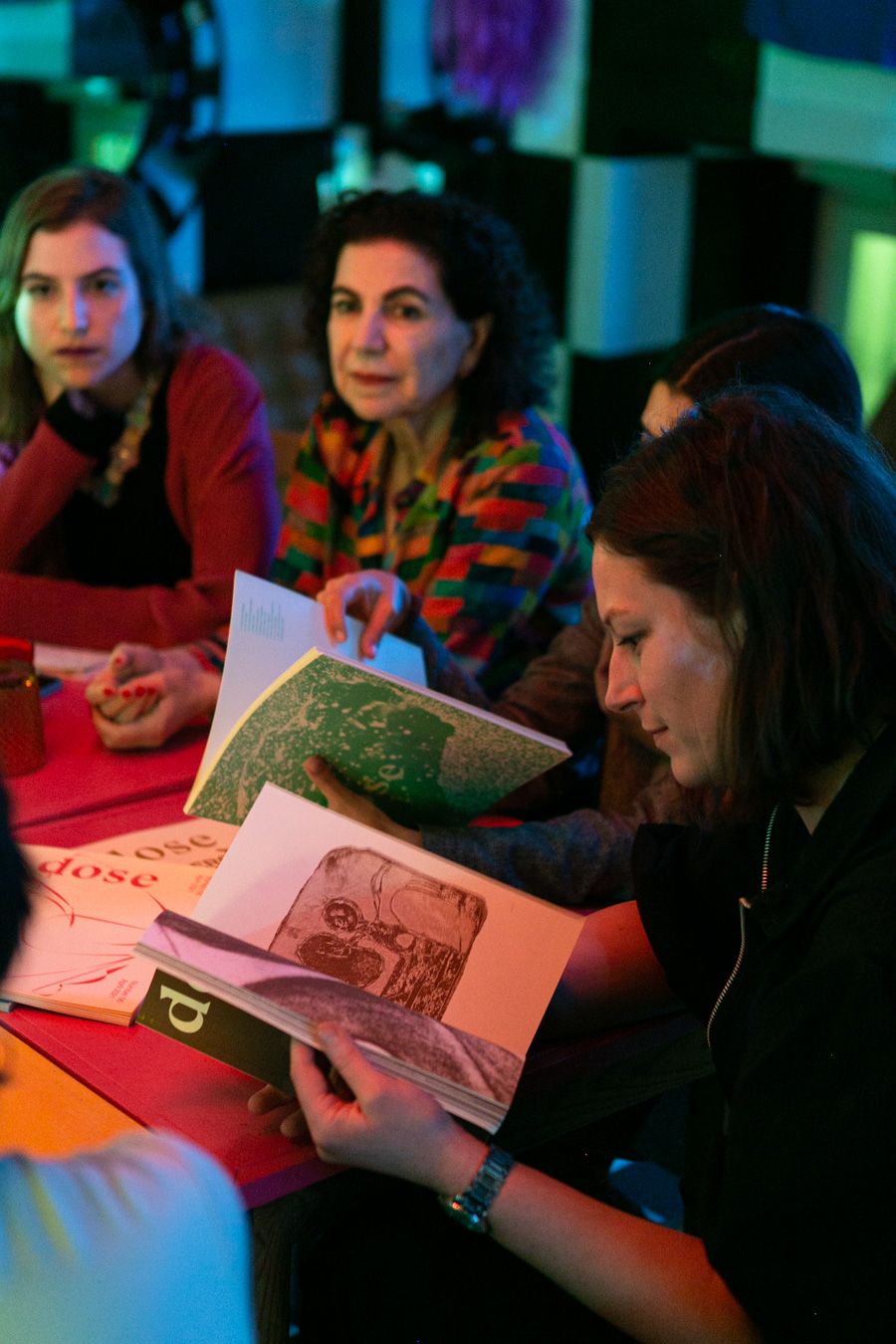 Speaking of women leading projects in the art world, the girls of DOSE are running an exceptionally original one. Founder Maria von Hafe and Mariana Rebola hosted a roundtable discussion to present the concept, objectives, hits and challenges of their Portuguese magazine (Margarida Oliveira is the third tip of this triangle who was not able to join us). Now on its ninth edition, the independent publication is launched every six months and gathers works by 12 Portugal-based artists. Printed in one color only, DOSE is actually an exhibition: it values the aesthetic experience and proposes an intimate relationship between artwork and viewer, instead of presenting texts or critiques.
It's hard work: after doing open calls and selecting the participating artists of each edition, they work closely with each one of them to tailor the concept and formal decisions of the artwork presented on paper. The three young founders are artists themselves. At DOSE they play the role of attentive curators, who shed light on emerging artists all over Portugal, with the aim to disseminate their work and make it circulate outside formal art spaces. Similarly to Artpool, they use paper and editions aiming for the accessibility of artworks.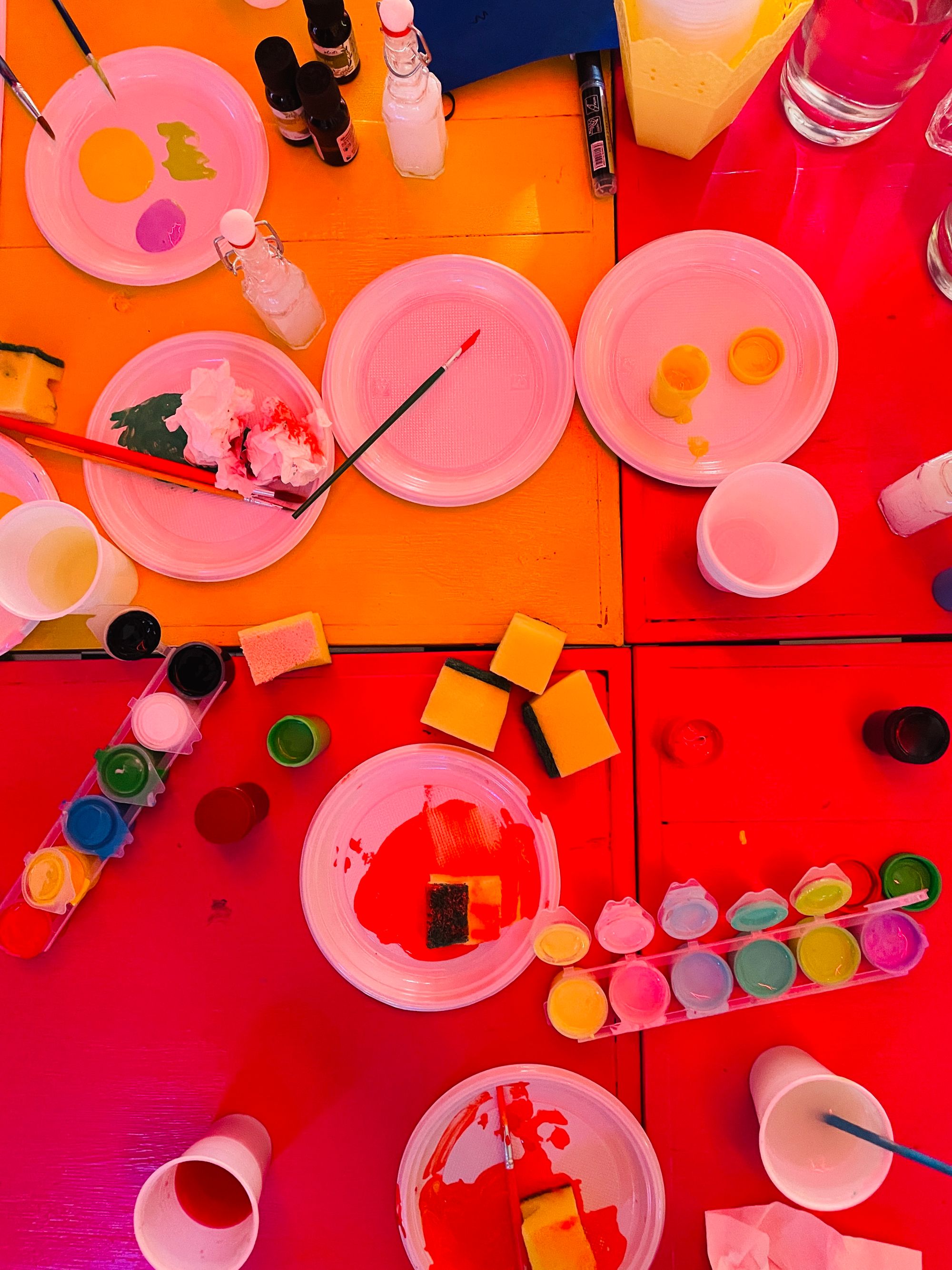 And what a lovely Saturday morning we had! It was entirely dedicated to kids, art and pizza: ten little big artists took part in a workshop led by Chilean curator Sofia Enriquez, who collaborates as a writer for the Mexican magazine Bloque, and is the author of the book Alternative ways of travel (2021). With an extensive experience of art production and research in America and Europe, her curatorial practice is developed around the exploration of sensory dynamics. She brought this research to a playful sensorial activity in which the children imagined and developed their favorite smells, and also decorated their own perfume box which they took home as a Xmas gift.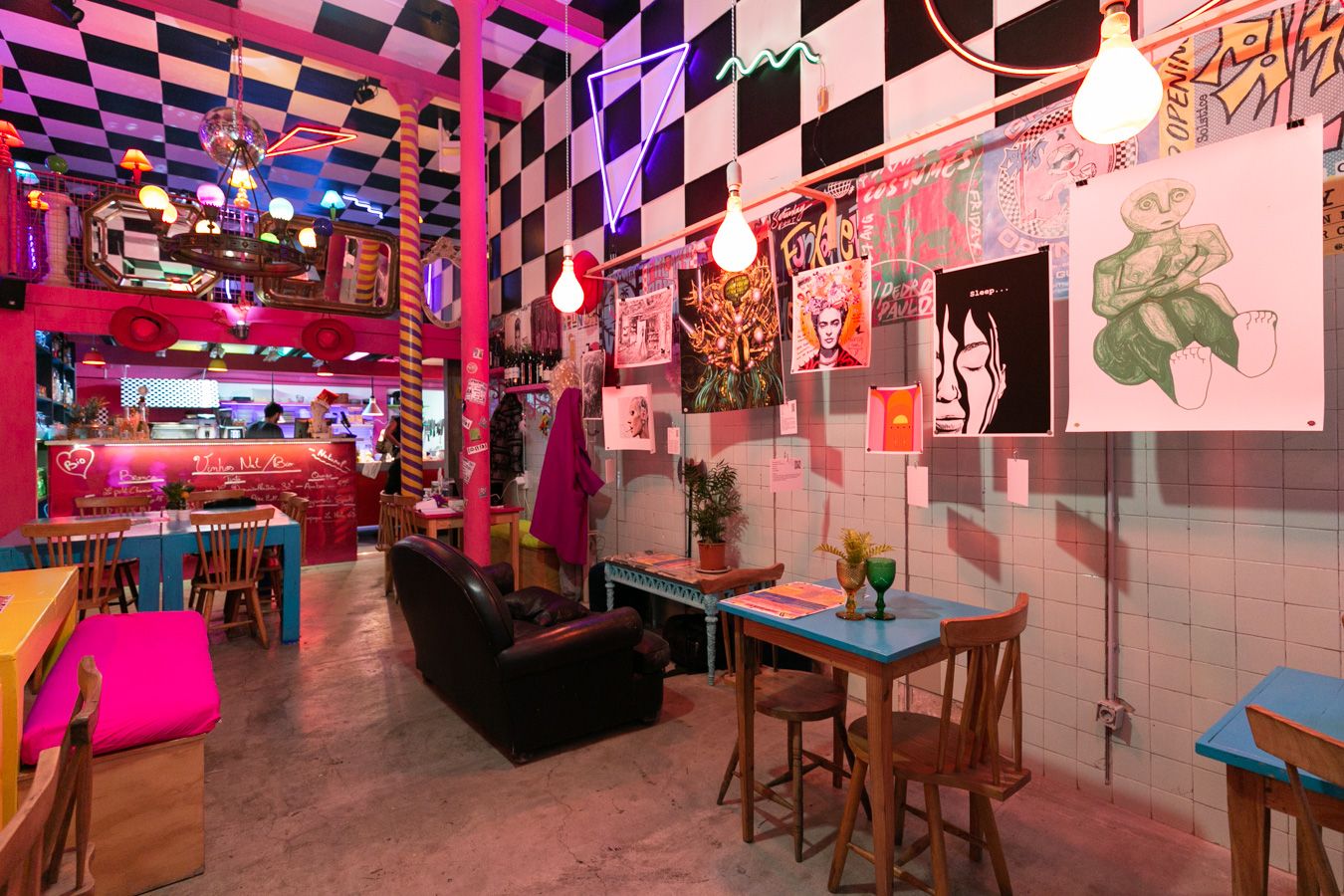 Visitors to our pop-up shop frequently asked questions about NFTs and digital art. Because we understand our role in educating, one of the aims of this event was to create a pleasant and comfortable environment for asking questions. Our founder & director Pauline Foessel hosted two open educational sessions for anyone wishing to learn more about the topics, giving an overview of NFTs since its boom in 2020, talking about the potentiality of NFTs for artist and curators, and answering questions about tools, rights, scams, and everything else the attendants wanted to ask! (Click here for a short video of one session)

These were invigorating and refreshing ten days. The only spoiler we can give you about our plans for 2023, for now, is: we are definitely organizing more physical events. Stay tuned!