Among the works of Filippo Minelli's new solo exhibition is a video of a colourful flower bouquet gently moving to Cuban Music, in the light breeze. Titled "Wildflowers grow in fields, wildflowers are beautiful" this online exhibition does not only gathers Minelli's most recent works, rather it shows the universe where these artworks were created – like his inspirations and places he has been working on over the past months. A generous digital show created with Art Curator Grid's new exhibition tool which embarks us to discover the world of Filippo Minelli.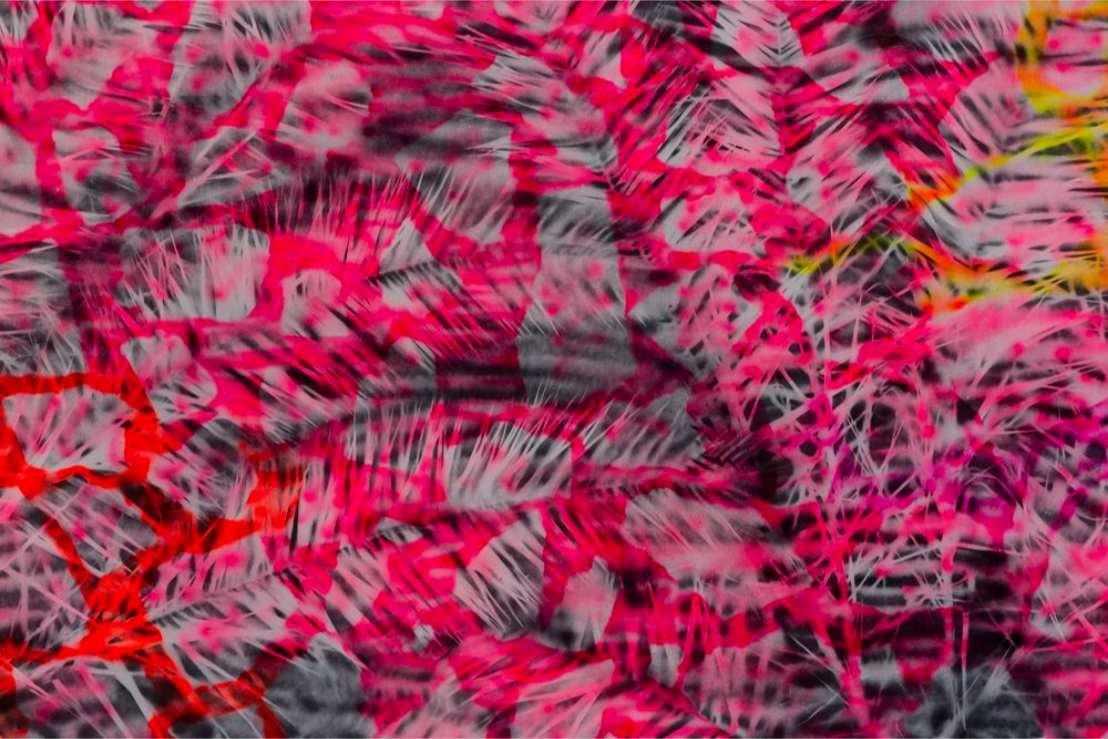 "What I like about this tool is that you can share more information than just the artwork, like videos, works in progress, music. We all know an online show will never be the same as an on-site exhibition, but here we are not replicating reality, we are working with new possibilities", says Pauline Foessel, founder and director of Art Curator Grid, who is also the curator of "Wildflowers grow in fields, wildflowers are beautiful" during a live demo, on December 10th, 2020. She has been involved since the beginning in the development of this Exhibition Tool, which is designed to help the curators to map out their ideas remotely and build their exhibitions online.
This tool provides the curators with so many possibilities to explore abstraction and imagination: "I had so much fun while creating this exhibition and I am satisfied with it. Not only because I am the founder of Art Curator Grid, but mainly because, as a curator myself, the tools I could use met what I wanted to achieve with the concept I had in mind", she says.
While launching the exhibition, Pauline Foessel did a live demo session on Zoom to explain how she built Minelli's solo show step by step.
See below for a recap of Pauline's live demo and watch the full session.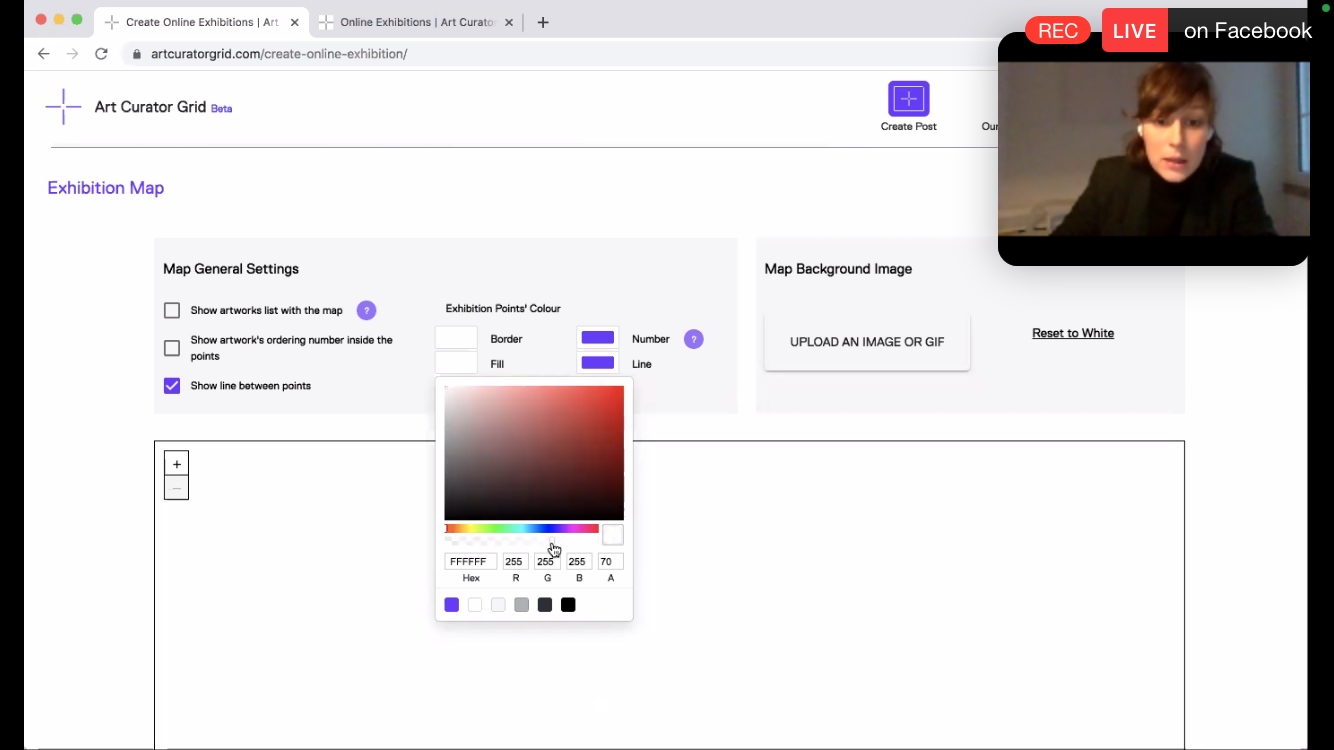 STEP 1: GIVING THE EXHIBITION A NAME
As you may know, the most difficult part of an exhibition is its conceptualization itself. If you have the concept, you have almost everything to share your ideas. With our Exhibition Tool, curators start by adding a title and their curatorial text, the dates of the show, as well as they may indicate co-curators and tags.
In her curatorial text, Pauline states: "[Filippo Minelli's] exhibition oscillates between the dichotomy of facts: observing, almost scientifically compiling fragments of nature and traces of the human species. And values: questioning the value of all the objects that surround us, artistically situating them at the center of new physical and temporal landscapes". Minelli lives on the Portuguese–Spanish border, where he collects objects such as flowers and stones and take them home. Further in the text, Pauline explains that after making 3D scans, he paints them virtually, creating a "Paisagem", the Portuguese word for landscape and the title of a mind-blowing series of works in which the juxtaposes real objects in urban environments with his imagined nature.
STEP 2: SHAPING THE EXHIBITION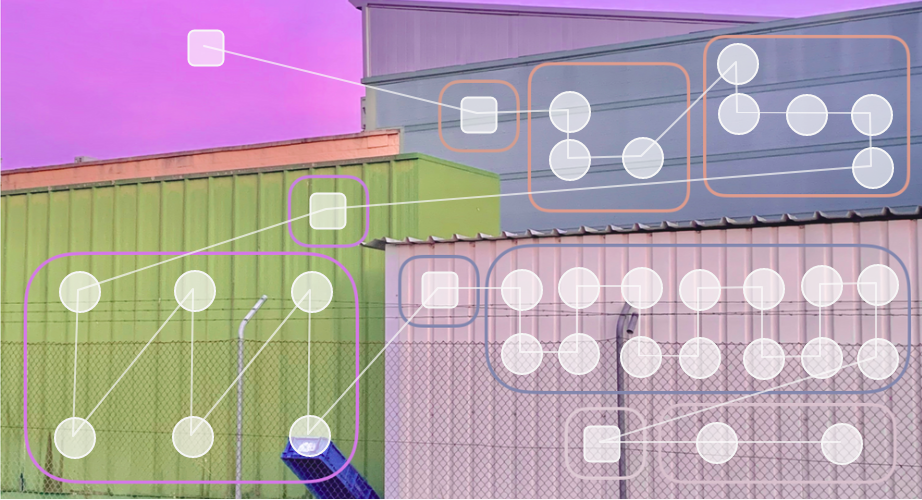 The map is the main feature of an exhibition, whether it's physical or 100% digital. With this tool, curators can choose if they are using a background image, a map of a "real" exhibition space, a drawing made by the artist or the curator himself, or even go for a blank space. After selecting what type of background they want to use, curators can also choose if the artworks will appear as numbers or just points on the map. They can also draw lines to connect the dots and create a visual narrative of the curatorial concept.
"It is a fun process! It always takes time to get exactly what you want while creating an exhibition. So I worked in collaboration with Filippo the whole time  we were exchanging to create together the best experience we could for our audience", explained Pauline during her live demo.
For the background image of "Wildflowers grow in fields, wildflowers are beautiful", Foessel and Minelli chose a landscape photography taken by the artist and divided groups of works into different sections represented as coloured rectangles. "Landscape in general is a fantastic tool as it's a mirror of the society inhabiting it, a way to decipher or dismantle narratives, but liminal places offer more freedom of interpretation and living", writes Filippo Minelli in his artist statement.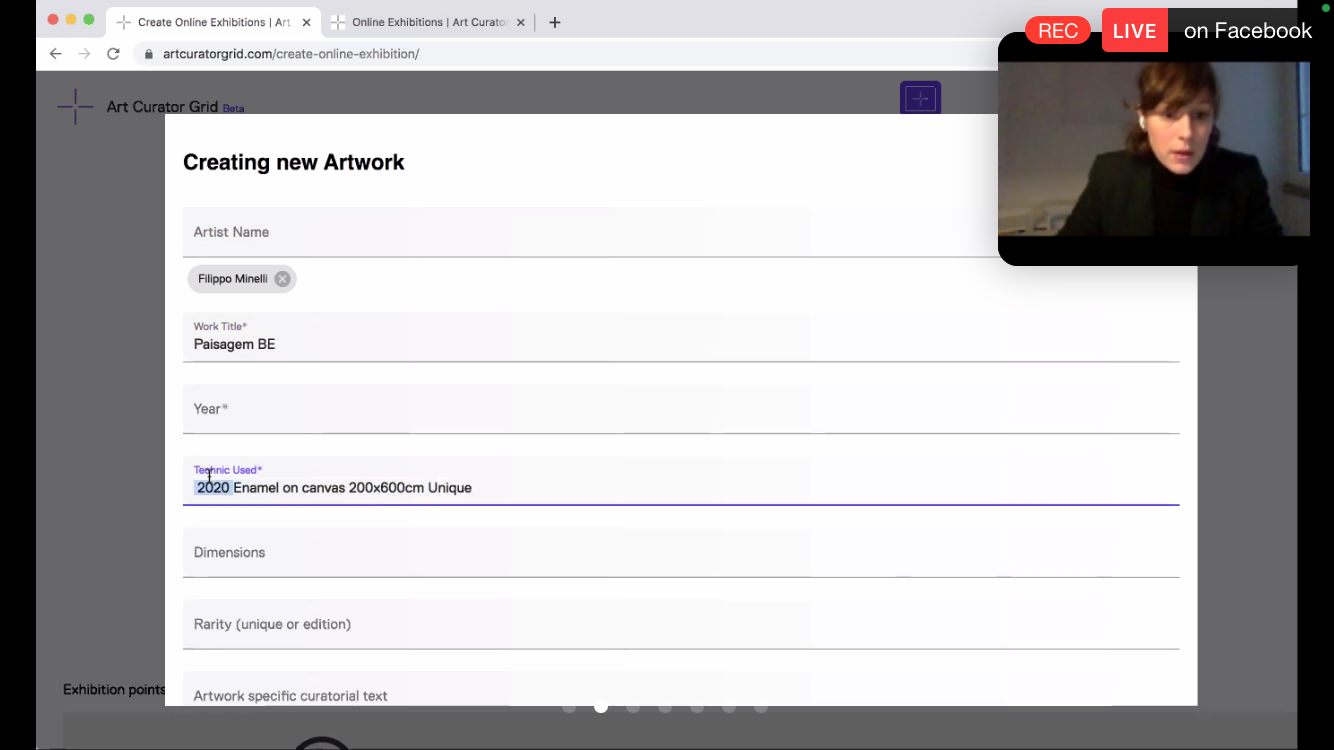 DIVE INTO THE DETAILS:
Information points, texts, pictures, videos, and artworks can be added and changed at every step of the building process. Each time curators upload a new artwork, they can set the location on the map. Every artwork must come with the artist's name, title, year, technic, but more information such as videos, links, artworks text, and a series title can also be added. The beauty of the Exhibition Tool is that there is no limit of time, space, and budget, so feel free to try it out!
FINAL STEPS: SHARING YOUR WORK
Press release, artist info, artwork list, and acknowledgment text create more layers of content and enrich the visitor's experience throughout the exhibition. The show can be saved as a draft or published right away. Curators can choose to make it public or visible only to Art Curator Grid members. It is also possible to turn it private, and share the link with specific audiences.
"It is not just an exhibition tool, but an exhibition tool you will reach an audience that is really interested in seeing your show. And it is a show you can offer to venues as well", explains Pauline to the curators present on the Zoom session last week. "The best reward you can give to us now is by creating your exhibition and giving us feedbacks after that".
Start creating your exhibition right away!
WATCH THE FULL SESSION:
"Wildflowers grow in fields, wildflowers are beautiful" by Filippo Minelli
Curated by Pauline Foessel
On view from December 10, 2020
Exclusively on Art Curator Grid