"Lisbon is like 'New York, New York' by Frank Sinatra: If you can't make it here, you can't make it anywhere! Especially when it comes to artistic expressions…I knew I had to do something there as well!" says Tatiana Gecman-Waldek. The French art consultant and audio storyteller took no longer than three months to launch a collective exhibition with 21 international artists in a 400-square-metre palace located in the old Portuguese neighbourhood of Alfama. ‌‌
Of course, she had an equally excited professional twin to make it work: the art director, trend trailblazer and talent scout Valerie Marendaz, also born in France, and passionate about Portuguese culture. Founder of the artistic platform Do.N.e., Valerie took the collectible design tangent, whereas Tatiana went to contemporary art. In common, they share the belief that there are no boundaries between different art expressions. "It's all about contemporary visual art!", claims Valerie. Hence the title of the first exhibition curated by them which opened last Thursday, September 22nd: In Between Worlds.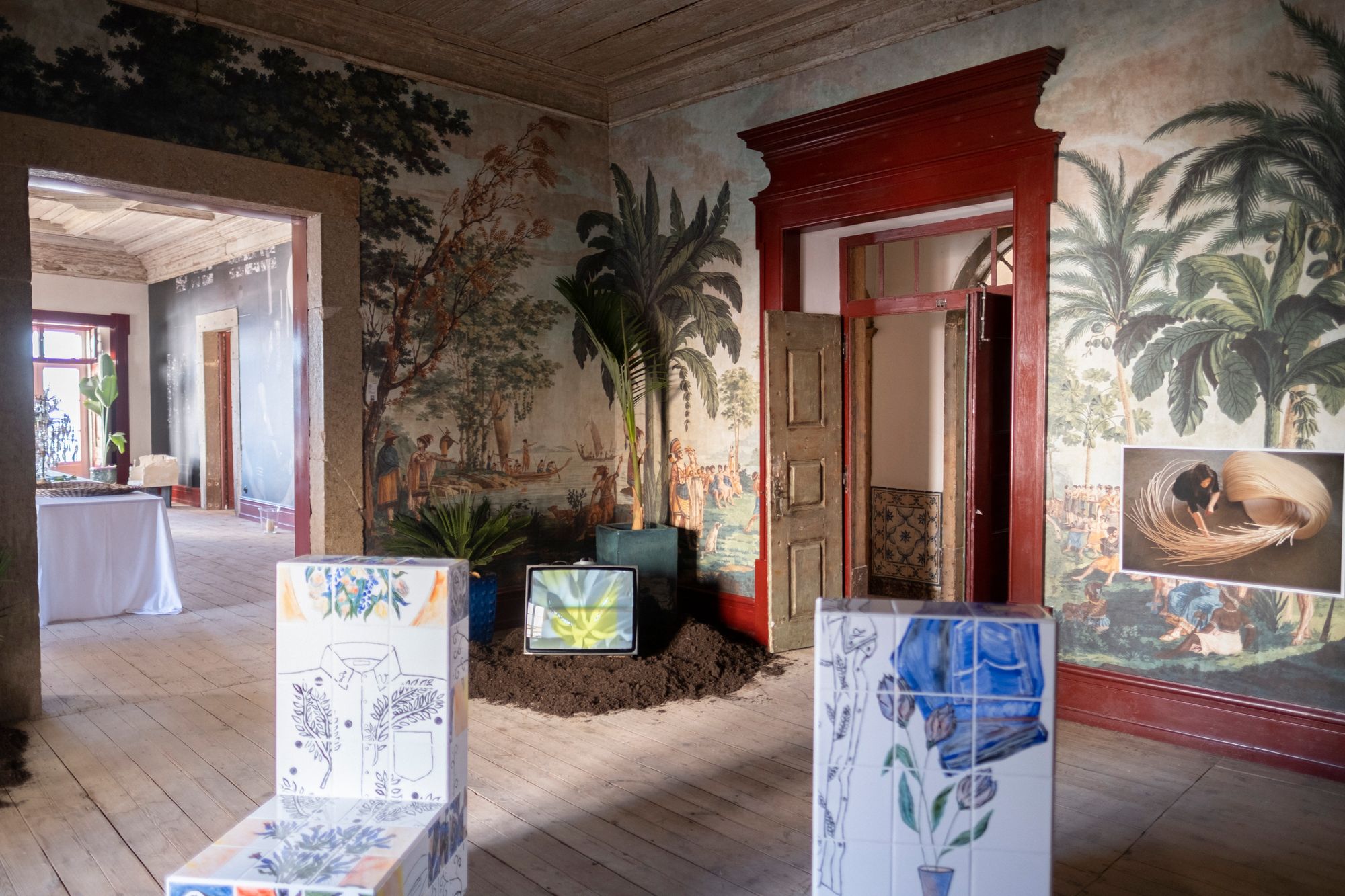 Roughly fifty artworks occupy the various rooms of the palace– installations, sound art, videos, design pieces, paintings, photographs, virtual reality, and NFTs. "We show the connections between emerging scenes, emerging territories, artists coming from the whole world, and emerging languages, that is why NFTs are also there". With Artpool, the curators invited three artists of the show to create exclusive art editions that are being sold on the platform- Mameluca Studio, Maja Rohwetter and Jeanne Susplugas. Collectors who buy an art edition via NFTs receive the printed artwork at home. "What Artpool is doing now, going to a real-life expression of an NFT artwork is exactly what we are trying to convey", explains Valerie.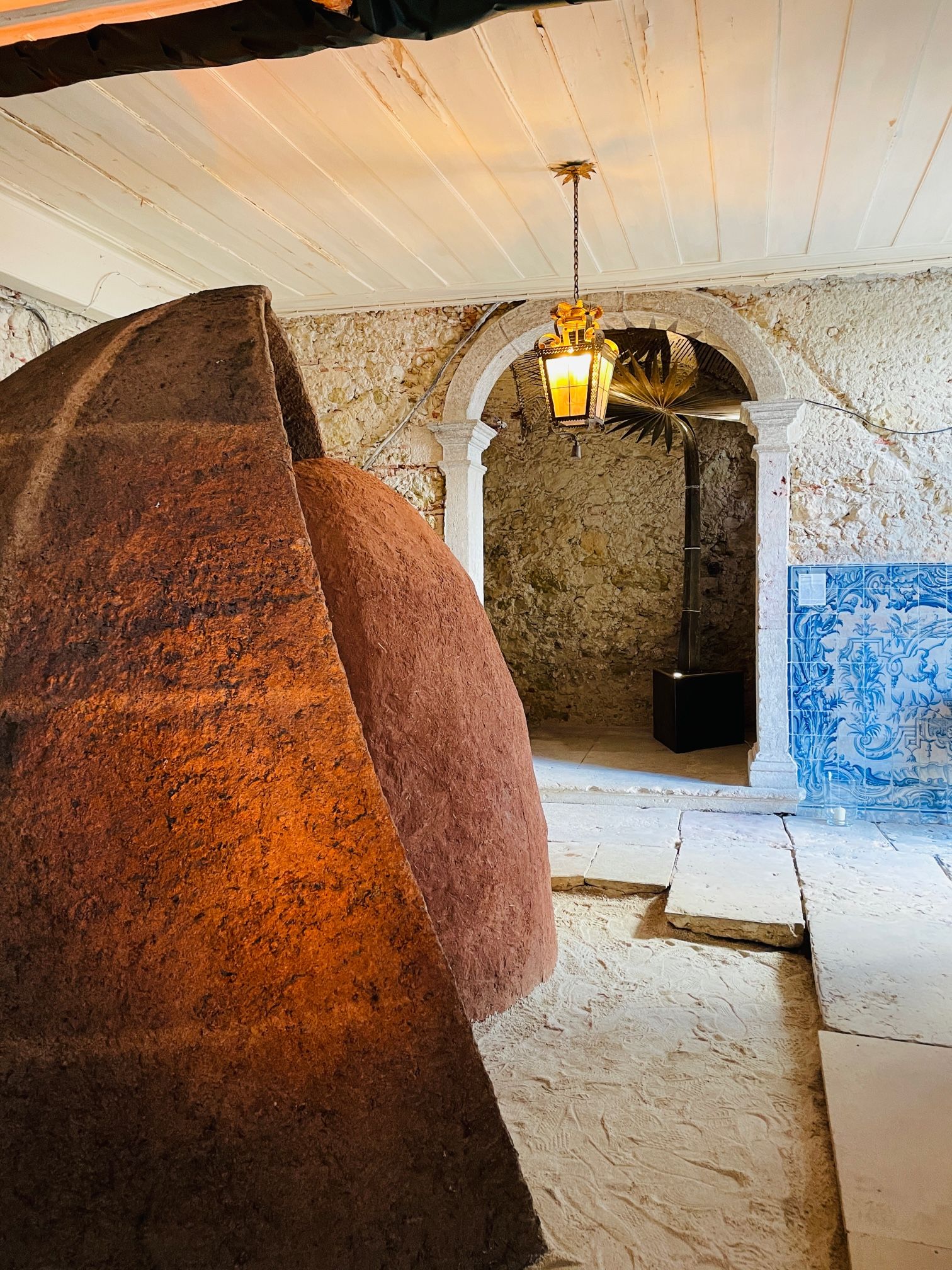 At the entrance of the exhibition, Mameluca Studio displays a huge nest made of earth, in which visitors are invited to enter and rest. The familiar smell and the sounds of birds create a comfortable ambiance for the piece, which also has a real nest of an ovenbird inside (a beautiful birdhouse no longer in use and found in Brazil, is itself a poetic artwork made by nature!). Titled Manimal, the installation observes how other living organisms on the planet use natural resources to build their habitat. For Artpool, the duo composed of Brazilian artist Alexandra Clark and the Portuguese Nuno FS has created the digital photography Manimal Waste World, in which this nest installation appears in an arid landscape. It is covered by residues of men, making us question: how can we use our own manufactured wastes to create spaces for us and therefore, reduce the impact and damage men do to planet earth? (Click here for more information about the work on Artpool marketplace).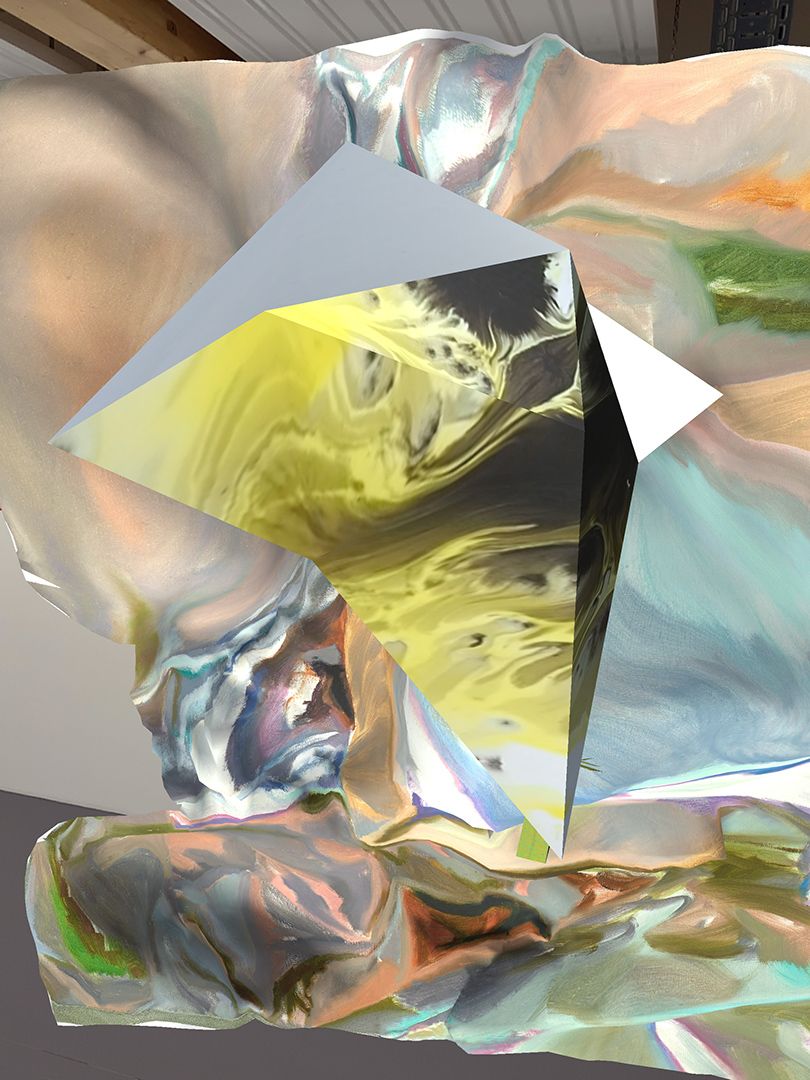 The experience continues. Amongst the artworks on the ground floor is the beautiful installation Anomalie Temporelle II (Liquid Puddles) by Ángela Jiménez Durán made out of sand that covers the entire floor of one living room. It reminds us of the works by Cuban artist Ana Mendieta: a powerful and feminine site-specific work with the shape of a vulva which is also a wound in the soil, a river or a body.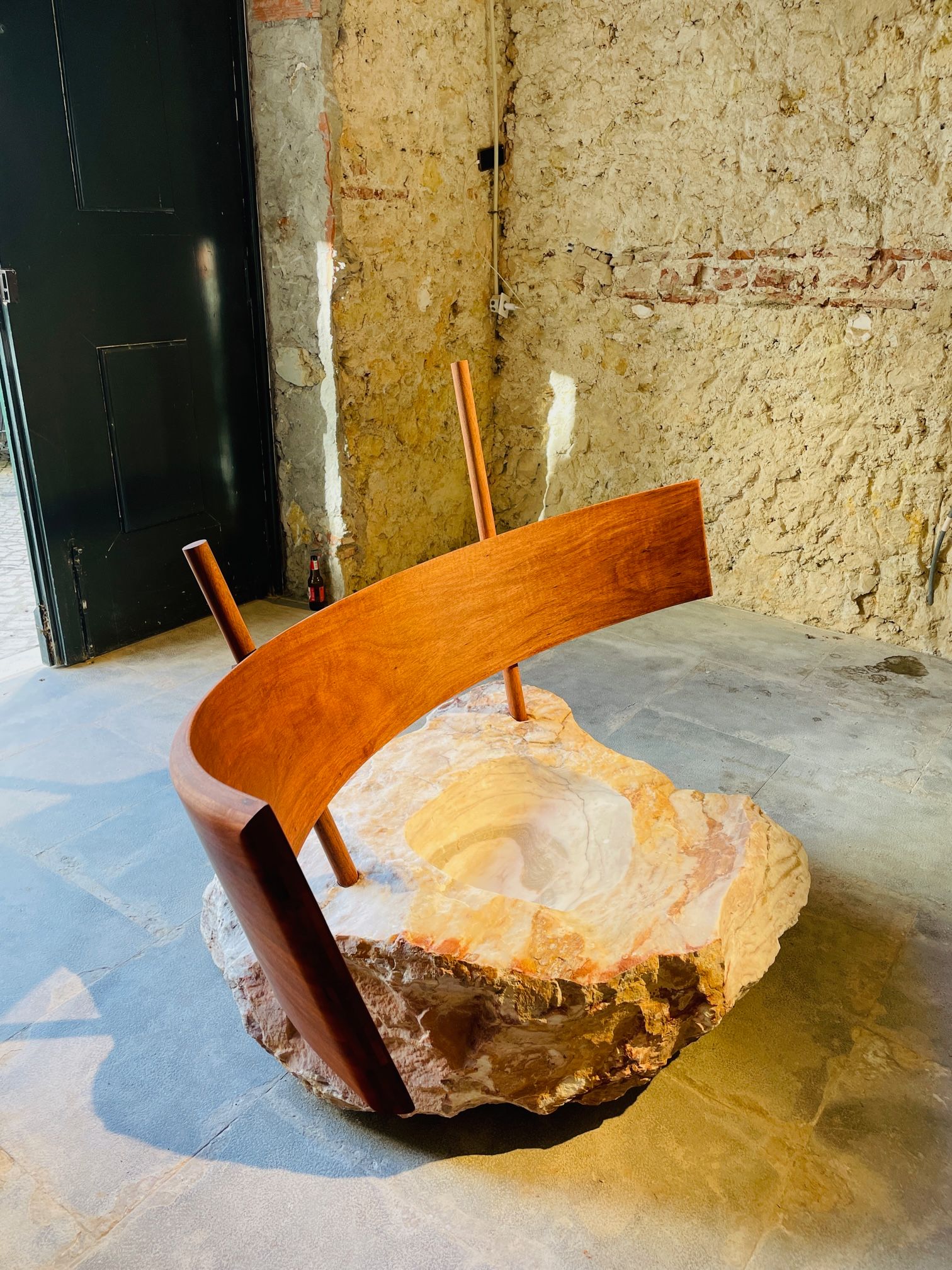 Pay attention to the beautiful chair piece by Mircea Anghel made out of stone and wood before going to the second floor of the palace. This is where Artpool displays two of our printed NFTs, one of them appARition by German artist Maja Rohwetter. Interested in creating visual experiences that blur the boundaries between physical and digital, she produced an image that gives us the sensation that paint is being transformed into a robotic being, or an amorphous and liquefy digital space (Click here for more information about the work on Artpool marketplace).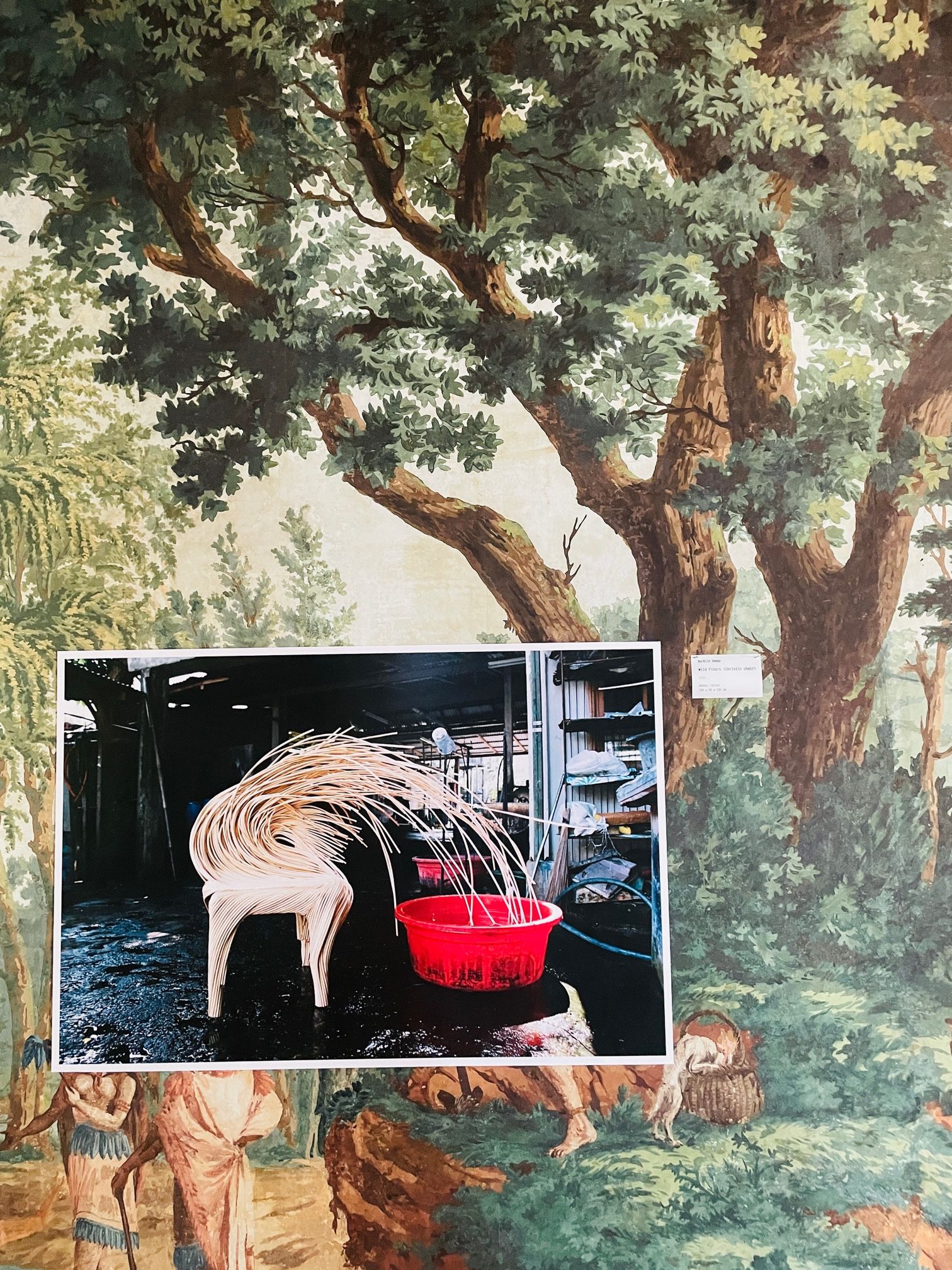 The next rooms are surprising, and have an amazing view to Lisbon. One antechamber which has an original wall painting of a landscape is now filled with earth, TVs and plants, as well as photographs by Aurelie Hoegy. A life-size tiger sculpture waits for us in a colourful bedroom, where the French duo Elsa & Johanna also displays several videos and photographs. Even the bathroom has one artwork by Tatiana Gecman-Waldek, a sound artist herself who goes under the name of BadBadTati. In Mirrors, the mirror speaks to us about consciousness, reflection, narcissism and beauty.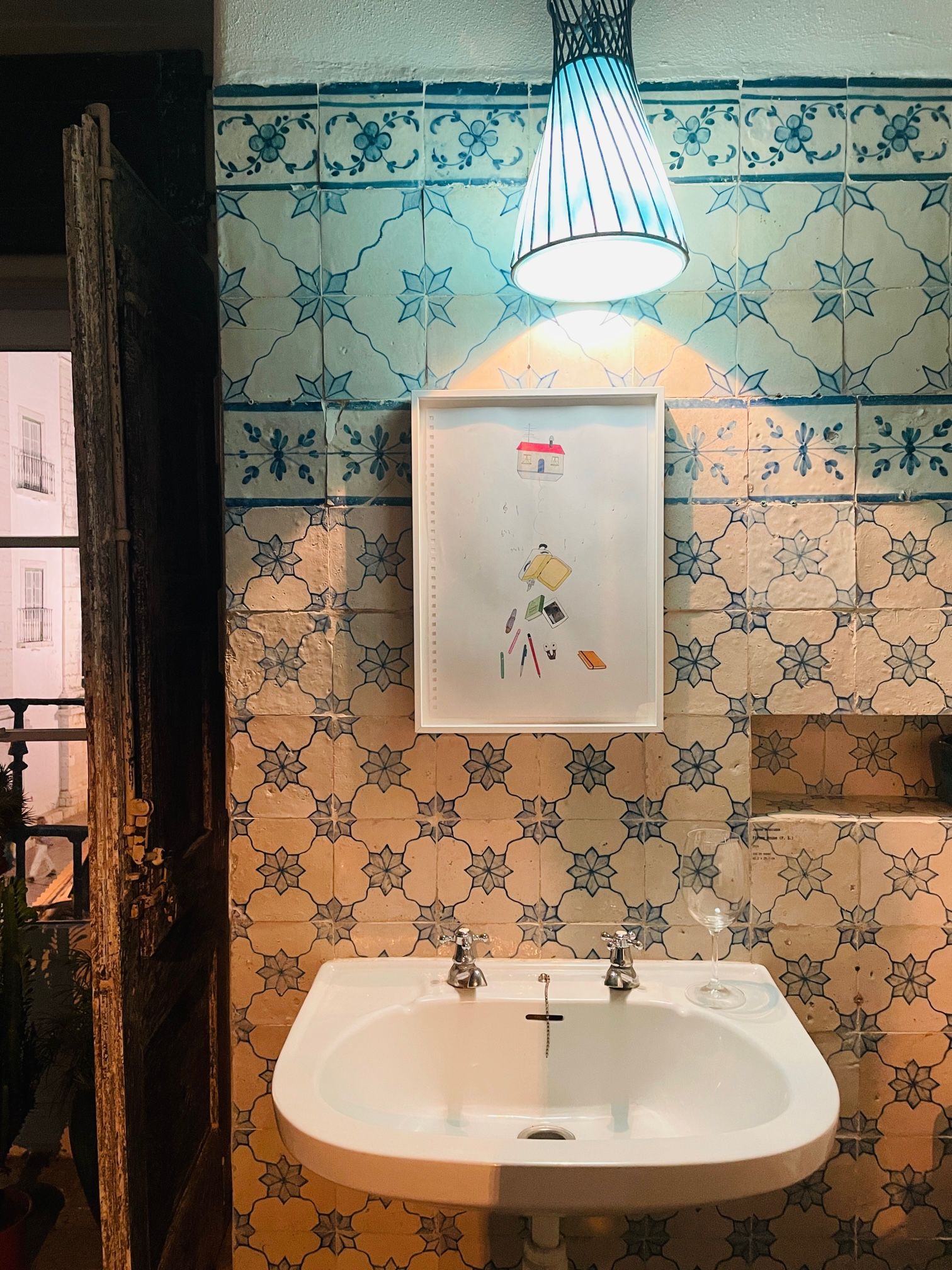 Works by French artist Jeanne Susplugas are spread all over the place, but the highlight is the virtual reality piece I will sleep when I'm dead, which is a dive into brain activity. In a dark room illuminated by a disco ball, visitors put 3D glasses on and are taken into an infinite maze of synapses and thoughts materialised by drawings. On Artpool, she presents two also oneiric and shadowy photographs: "The exhibition is in this beautiful house, and for Artpool I worked on the theme of home and intimacy", explains the artist (Click here for more information about the works on Artpool marketplace).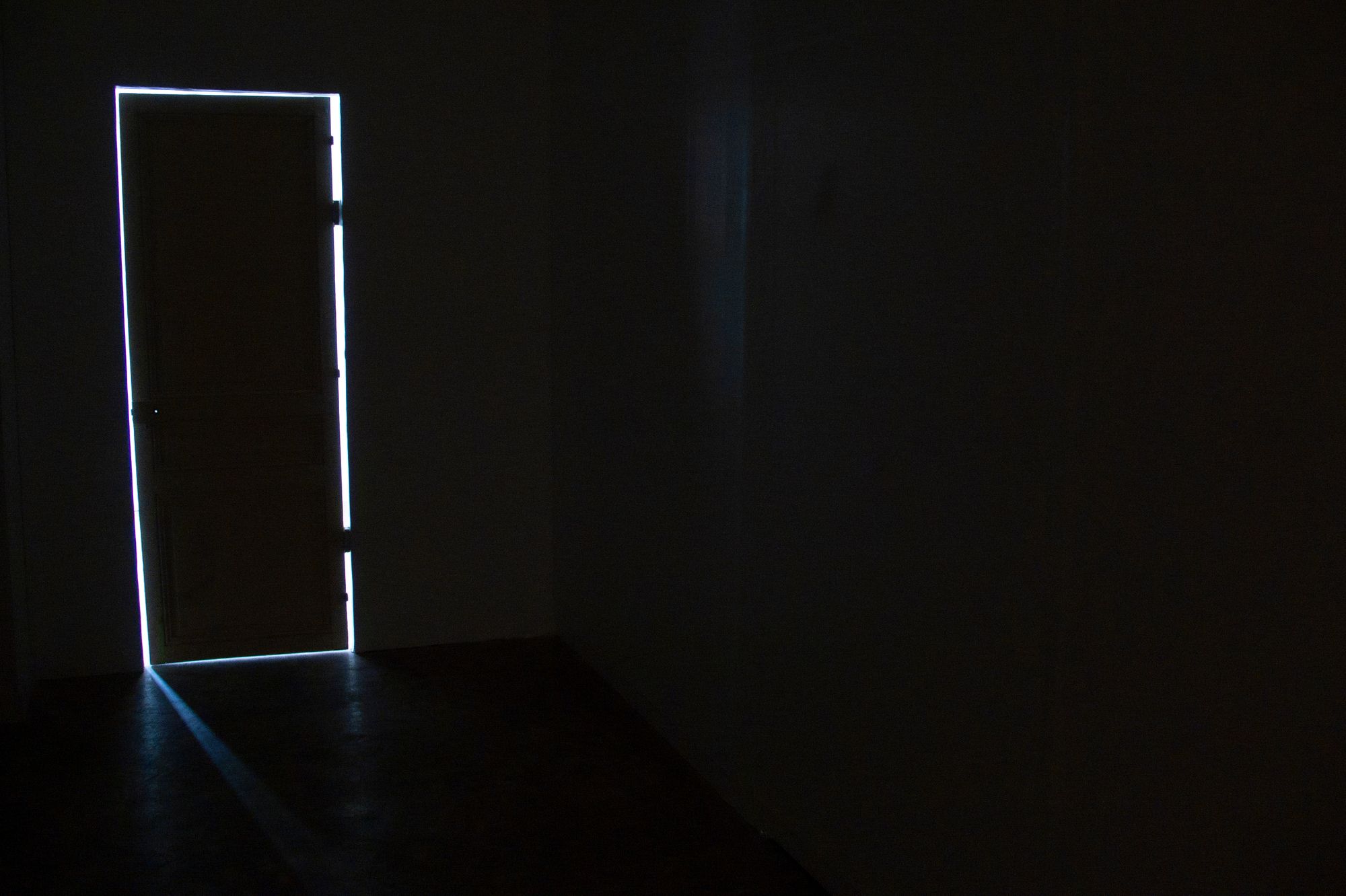 "We are opening new doors, new corridors, new conversations," says Tatiana. "It's also a show window, we want to support these artists, make them well known in the Portugal scene", says Valerie, explaining the fact that all pieces are for sale. "It was rock and roll, but do you know an exhibition that is not stressful?" With a premiere like this, we can only say that the duo is now unstoppable!‌‌‌‌

The exhibition takes place from September,22nd to October, 8th at Palacete Santo Estevão (Lg. Santo Estevão, 6), in Lisbon. Click here for the collection of "In Between Worlds" on Artpool