by Julia Flamingo

Well-known for his immersive installations, the Brazilian-Japanese artist launches a collection of video animations on Artpool
"These days I feel like a wild animal in the cage. But I feel blessed because I can still travel within myself". The life of the Brazilian-Japanese artist Oscar Oiwa is all about traveling between São Paulo, Tokyo, and New York, the city where he lives, or flying across North and South America, Asia, and Europe where his works have been widely shown. When he is all by himself - or stuck in a cage as we all felt during the Covid-19 crisis - he wanders in the fantastic universe he creates with his drawings.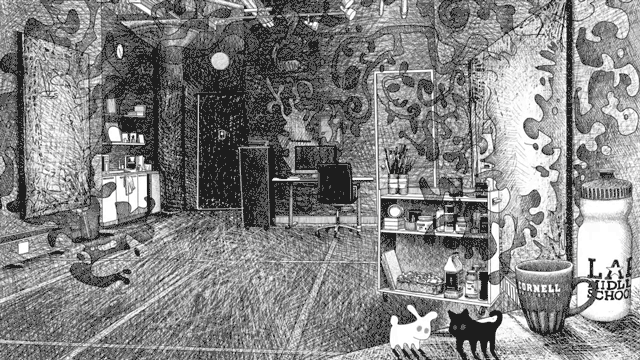 Back in 2020, in his apartment in Manhattan, Oiwa spent whole days creating black and white digital drawings imagining himself in some places he had already been or was supposed to visit, some ghost towns, and others filled with fantastic creatures. Mixing past, present, and future, his extremely detailed drawings are at the same time surreal and familiar. Not surprisingly, after the first wave of the pandemic, the twenty pieces that compose the Quarantine Drawings series ended up being presented in museums like the Tokyo Museum of Contemporary Art and the Osaka Museum of Modern Art. Starting this week, two of the drawings were selected by the artist and transformed into animations to be sold on Artpool, Back in my Studio and Independência ou Morte [Independence or Death].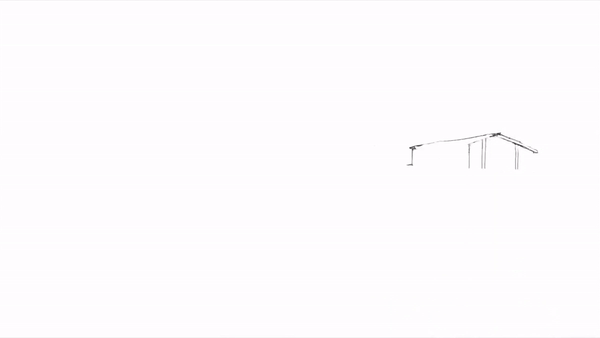 Filled with lines and textures, the drawings have a similar aesthetic to his signature black and white immersive installations, like Paraiso (2018) at the Japan House São Paulo or The Dreams of a Sleeping World (2022) exhibition in Taiwan. "I can create more details in a digital drawing than with a pencil," he says. "It's possible to use a white color to draw, create layers, and move everything around. From there, animating is pretty easy!" With a background in architecture, the 56-year-old artist works on massive oil painting canvases with the same fluidity he experiments with AI artworks and NFTs. In all cases, he draws tirelessly to create apocalyptic skies, busy cityscapes, and infinite dramatic spaces or uses recurring patterns of circles, Japanese flowers, and gardens to create quiet dreamscapes.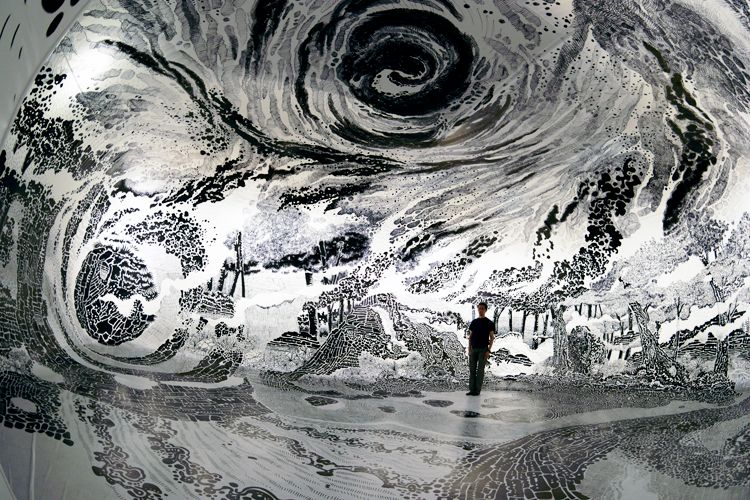 My life in… is another exciting series Oiwa also worked on in 2021: "I was imagining how my artistic career might have been if I had been born in another time period in a different place," he explains. So he painted 8 different canvases as if he were an artist in his studio in Paris in 1910, in Milano in 1925, In Mexico in 1934, among others. In his website, he paired each work with three-dimensional digital models of his supposed studio and wrote a small text as if it was a diary.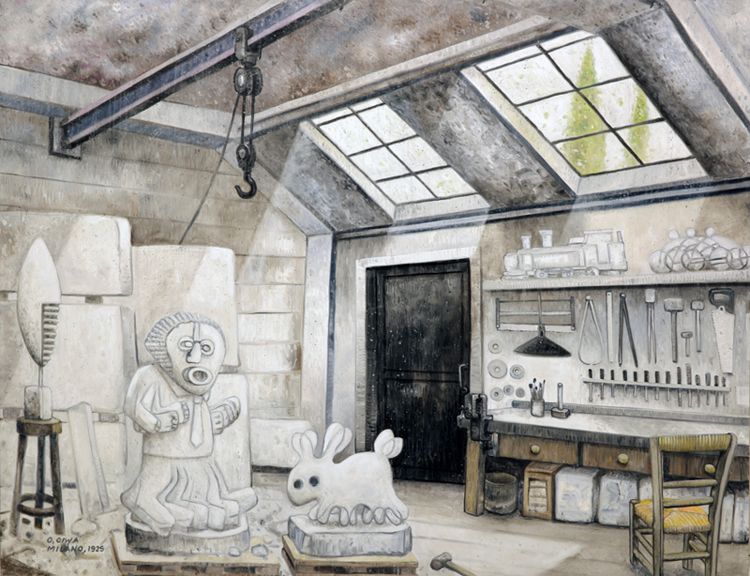 "It's radical", comments Masako Shiba, co-founder of ONBD, the curatorial collective working with Oscar for his collection on Artpool. "I've known him forever. He is so respected in the traditional art world, because of his drawings and large-scale installations, and it's amazing to see how fluidly he can go between different expressions and practices, physically and digitally," says the Japanese-American curator. Alongside Eva Ren and Daniel Chen, she founded ONBD two years ago to be an incubator and translator between the traditional art world and the NFT/crypto space. "We understand the conceptual practice of an artist and then we come up with ideas about what kind of new media can be applied through these new opportunities that are in front of us," explains Masako. When she first worked with Oscar Oiwa, they transformed the poetic animation Shadow Cat meet Light Rabbit, a drawing from 1996, into a video animation and 100 digital drawings (stills) to be sold as NFTs.
On Artpool, collectors who buy the video-animation art editions, receive at home a printed version of one of the stills. Oscar Oiwa has been welcoming audiences into his fantastic world for over thirty years - now NFTs make it possible for people to own a little part of this incredible black and white universe.

Click here for the Drawing Series collection on Artpool