Over the last weeks, Artpool's team has been constantly looking up. As we have become in immersed in the project Celeste, by Spanish artist Solimán Lopez who has been installing beacons in cities all over the world to take pictures of the sky, we perceive ourselves talking about how the heavens have been an important subject in art, and the many different and interesting projects artists have created by looking up.

Of course you know the mesmerising blue of The Starry Night, by Van Gogh or the vibrant red background in The Scream by Edvard Munch. But do you know these other amazing artworks?

Anish Kapoor
One of the most renowned artists of our time, Anish Kapoor has created dozens of mirrors to the skies, which he displays as public art in different landscapes and contexts all over the globe. His land art installations change the way we perceive space, nature, and even ourselves in relationship to the context we are in. With Sky Mirror it seems like the sky is now a surface, like a collage in the scenery. The artwork can seem simple, but it is a very complex piece: the monumental mirrors are concave and don't have any amendment, making us feel small and insignificant compared with the reflex of the infinity.


Sandra Cinto
The drawings Sandra Cinto creates on black and blue walls of museums and galleries are like fairy tales or fantasy stories that have as a background the immensity of sky and nature. Night skies and rough seas are meticulously drawn with very thin white pens over several days to produce works like Noturno. By creating these site-specific drawings, the Brazilian artist is also dealing with architecture as she creates immersive landscapes that invite the public to dive into the nothingness of the sky and her dreamlike world of meditation.

There are times her installations come in harmony with music, and are visual illustrations to melodic compositions like Chopin's Nocturne Op.15 no.3, with its contrasting dynamic of silences and noise, density and peacefulness. Sandra Cinto's works are sublime choreographies in space.


Cecilia Vicuña
Taking her artistic residency in Observatorio Astronómico La Silla near Atacama Desert as a starting point, the internationally known Chilean artist Cecilia Vicuña invited artists and scientists to create artworks for Minga del Cielo Oscuro, an exhibition that discussed the darkness of the skies and its infinite ancestral and scientific knowledge. Now with a solo exhibition on view at Guggenheim New York and a highlight at Venice Biennale 2022, the artist is a fierce advocate for the rights of indgenous people in Chile and alarmist of ecological destruction. By looking up and inviting people from different fields to work together, she hopes for a bright future.


Yves Klein
International Klein Blue (IKB) is the distinctive ultramarine blue Yves Klein registered as a trademark colour in 1957. It is said that he tried very hard to get close to the colours of the sky. He started creating his monochrome paintings in 1947, and did almost 200 of them, considering them to be a way of rejecting representation in painting. It was like the freedom of the skies and the freedom of creative expression synthesised in one colour.

Yves Klein also considered that the International Klein Blue had a quality close to pure space, and he associated it with things that cannot be touched or seen. He was tackling immateriality, ephemerality, nothingness and emptiness.


Yoko Ono
The sky as a symbol of connection, hope, freedom and limitlessness is a constant in the work of conceptual artist Yoko Ono, who looked at the sky as a facilitator of experiences and a foster of engagement between individuals. Her Sky T.V. dating back to 1966, as well as her Instructions like Painting to see the skies, served as calls for peace.

"Even when everything was falling apart around me, the sky was always there for me… I can never give up on life as long as the sky is there," said the artist on the occasion of MoMA's To See the Sky in 2015. In her exhibitions, people all over the world take home pieces of the sky in jigsaw puzzles: although you will never grasp it entirely, the sky is for you as well.


Regina Silveira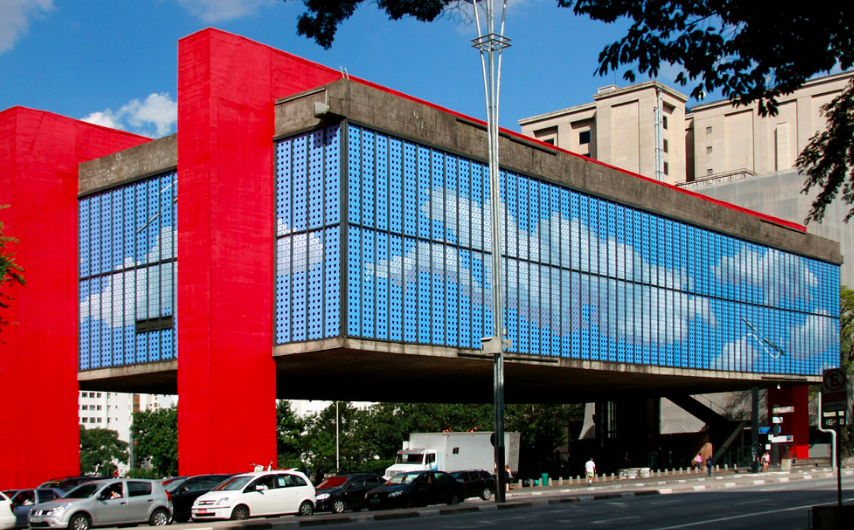 It was big happening when in 2010, artist Regina Silveira created an installation on the facade of MASP, the infamous  Brazilian museum. Within her outstanding career, Regina Silveira has created public art for cities all around the world, and this time she created enormous digital prints in vinyl of an embroidered sky. The artwork was contrasting with the grey skies of São Paulo, and bringing colour and dream to its landscape. But Tramazul was also pointing to feminism: according to the established code, embroidery is a female activity, therefore Regina Silveira was talking about a feminine sky. Perhaps she was illustrating the netting of a dream in which powerful women would take over one of the biggest cities in the world.


James Turrell
Another exceptional artist of Land Art, the American James Turell develops architectural structures to create frames for the sky. He uses light and space as means to change the way we look up to the sky in site-specific artworks titled Skyspaces. More than to be seen, these works are to be experienced: those who have the chance to see Open Sky in the Chichu Art Museum in Naoshima Island in Japan will never forget that ethereal experience. Seated in concrete benches and looking up, the visitors see how the sky changes as the colours of the lights also change. James Turell uses light to create mystic and almost supernatural atmospheres: it is art, science, mathematics, architecture and astrology all in one.


Georgia O'Keeffe
In 1963, Georgia O'Keffee began to capture the endless expanses of clouds she had observed from airplane windows during her trips all over the world. The American painter described the changing patterns and colors she saw through her cabin window as "breathtaking" and was moved to interpret these sights and feelings in paint. Sky above Clouds IV is the most ambitious of the series: the monumental painting created in 1965, as she was 77 years old, measures 2,5 meters tall by 7 meters wide. The reason why she worked on such a large canvas was because the size also helps to get across the experience of seeing the great expanse of the sky when flying.


Denilson Baniwa
Brazilian indigenous artist Denilson Baniwa is well known for his activism and fight for the rights of indigenous communities in Brazil. In his work, he appropriates himself from Western culture to decolonize those images and create narratives in which he includes his own fiction and indigenous stories and cosmogonies. His drawings, collages and paintings like Nhandecy-Eté depict the contemporary life of indigenous people, discussing stereotypes, colonization, resistance, extinction and sustainability. As the skies are so important for the day-to-day life of indegenous groups, constellations, stars and looking up are a constant in his work.


Zhao Zhao
Chinese artist Zhao Zhao began painting the sky in 2009, making it his longest-running subject. To him, under Beijing's hazy sky, there is no division between cloudy and sunny days, or even between seasons. At the beginning, the monotonous grey sky of his city was merely the background of his paintings, but it soon became its only subject and content. He mixes sky fragments from Renaissance paintings, clouds from antique Chinese paintings, and blue sky shades from several countries, discussing art history and how the sky was depicted in different movements, periods of time and places around the world.
---
The starting point of this article is the project Celeste by Spanish artist Solimán Lopez. Click here for Celeste's NFT drop on Artpool and here to read a comprehensive interview with the artist.